NYBG's Before the Green is Gone: 2017 Sustainability Summit and Dinner
Posted in Events on June 23, 2017 by Stevenson Swanson
Stevenson Swanson is the Science Media Manager at The New York Botanical Garden.
---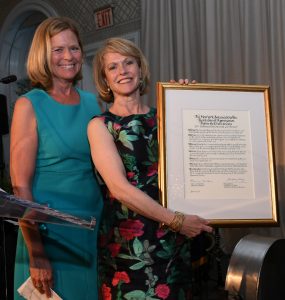 The New York Botanical Garden's first Before the Green is Gone: Sustainability Summit and Dinner was held at multiple sites around the Botanical Garden on Wednesday, June 14. The event was held not only to honor those who have played central roles in sustainability initiatives at the Garden and around the world but also to advance public discussion of issues at the heart of building a more sustainable world.
Three concurrent sessions on critical sustainability subjects—water, forestry, and energy—featured experts from the worlds of business, research, advocacy, and philanthropy. Held at active conservation sites around the Garden, the information-packed sessions offered speakers the opportunity to share challenges and discuss practical solutions to these important issues.

After the sessions, guests gathered at the landmark Enid A. Haupt Conservatory for cocktails and an opportunity to enjoy CHIHULY, featuring artworks by world-renowned artist Dale Chihuly set amid the Garden's landscape. Dinner and award presentations followed in the Garden Terrace Room, with Andrew Revkin, Senior Reporter at ProPublica, serving as master of ceremonies. Valerie Chort, Vice President of Corporate Responsibility at Royal Bank of Canada (RBC), delivered the evening's keynote address, in which she spoke about the importance of purpose-led organizations as a model for corporate social responsibility.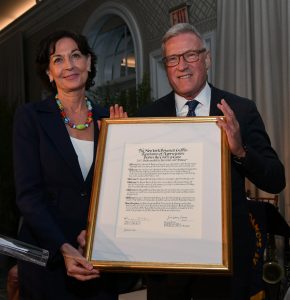 RBC was honored for its international Blue Water Project, a 10-year commitment to help protect the world's most precious natural resource: fresh water. With the help of an RBC Blue Water Project grant, NYBG has constructed a stormwater management system to reduce stormwater flows to the Bronx River.
The event also honored Diane Katzin, NYBG Trustee and sustainability advocate. She has played a leadership role in funding NYBG's Green Materials Recycling Center, which recycles all plant material produced at the Garden to produce mulches, compost, and soil for use throughout the landscape, in NYBG gardens, and in its greenhouses.
Proceeds from the evening help support NYBG and its 80 Ph.D. scientists, who work around the world to advance plant research and conservation before the green is gone.
You can learn more about the event and the 2018 summit and dinner, scheduled for Thursday, November 1, 2018, here.