2018 Sustainability
Summit & Dinner
Please save the date for the 2018 Sustainability Summit & Dinner, to be held at the Garden on Thursday, November 1.
Honored Guest:
Lord Norman Foster
President, the Norman Foster Foundation
Founder and Executive Chairman, Foster + Partners
Architects of Bloomberg, London
"The Most Sustainable Office Building in the World"
NYBG will be pleased to award the 2018 Founders Award for lifetime achievement in architecture to Lord Norman Foster, President of the Norman Foster Foundation and Founder and Executive Chairman of Foster + Partners, a global studio for architecture, urbanism and design, rooted in sustainability. Lord Foster's standard-setting green buildings mark a new pinnacle in his career, raising the bar everywhere for sustainability excellence.
This event was made possible by organizations and individuals who share The New York Botanical Garden's commitment to a sustainable future. The evening helps support NYBG and its 80 Ph.D. scientists who work around the world to advance plant research and conservation. For ticket information, please click here.  If you are unable to attend, please consider making a donation here.
A few guest comments about last year's event, which was a first-of-a-kind NYBG event in sustainability innovation:
"Positioning NYBG to be a convener of this important global conversation around climate is a welcomed endeavor and was well executed."
"It was a wonderful evening in a truly wonderful place."
"Bringing together corporate, nonprofit, media, and individuals to discuss these critical sustainability topics is a great idea and the first time I have attended a gala of this type."
"An excellent event with thoughtful conversation and smart company. Well done!"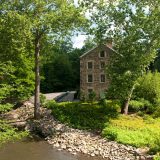 2018 Event Details
Read more about the evening's agenda, as well as its important mission.