Posted in Interesting Plant Stories on April 3, 2015 by Elizabeth Kiernan
Elizabeth Kiernan is a project coordinator for the William and Lynda Steere Herbarium at The New York Botanical Garden. She is currently working on a program to document the biodiversity of the Amazonian region of South America.
---
[Editor's note: Easter is the second-biggest holiday for candy sales in the U.S., according to the National Confectioners' Association, with sales of $2.1 billion in 2012. Each year, candy companies produce 90 million chocolate Easter bunnies.]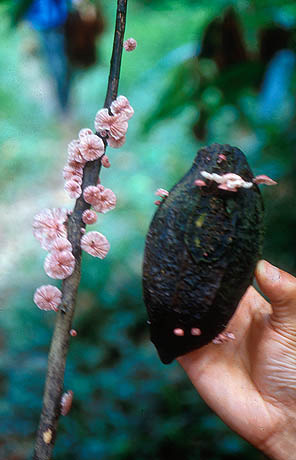 Chocolate lovers beware! Witches' broom disease is your worst enemy. This fungal disease attacks Theobroma cacao, the tree from which chocolate is derived, and it has so altered chocolate production that in a generation no one may remember what chocolate as we knew it once tasted like.
T. cacao grows in the tropical rainforests of South America and West Africa. Here at The New York Botanical Garden, several cacao trees can be found in the Lowland Rain Forest Galleries of the Enid A. Haupt Conservatory, and there are preserved, dried specimens in the William and Lynda Steere Herbarium.
Humans unknowingly set the stage for the spread of Moniliophthora perniciosa, the aggressive fungus responsible for witches' broom disease. To maximize the supply of cacao beans, which are used to make cocoa powder and chocolate, large monocultures of cacao trees were planted in South and Central America in the early 1900s from a selected handful of seeds, chosen for their delectability. This unintentionally placed the trees in a fragile position, since genetically similar populations are more at risk of succumbing to devastating pathogens. The fungus first appeared in Ecuador in the 1920s and has since spread throughout the Neotropics. Ten years after first being spotted in Bahia, Brazil, nearly 75 percent of the native cacao trees have been eradicated.