Posted in Book on March 16, 2017 by Stevenson Swanson
Stevenson Swanson is the Science Media Manager for The New York Botanical Garden.
---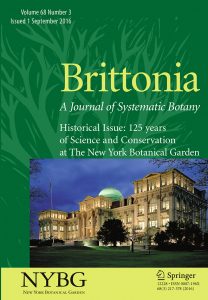 By their nature, scientists tend to be forward-looking sorts. As they explore their field of research, one question leads to another question, which, inevitably, leads to yet another question. But a recent issue of Brittonia, a quarterly journal of botanical research published by NYBG Press, casts a backward glance at 125 years of science and conservation at The New York Botanical Garden.
Research has played a major role at The New York Botanical Garden since its founding—by a husband-wife team of plant scientists—in 1891. As Lawrence M. Kelly, Ph.D., the editor of this special issue, writes in an introductory essay, the Botanical Garden's scientific programs are aimed at describing, documenting, understanding, and preserving plant diversity.