Posted in Book on July 3, 2018 by Science Talk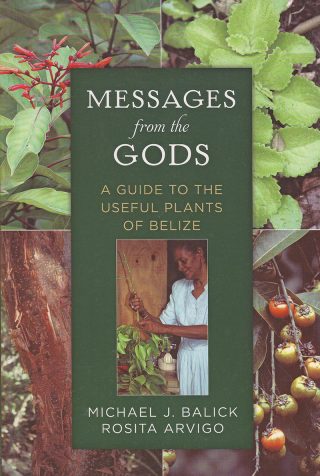 Messages from the Gods: A Guide to the Useful Plants of Belize, by NYBG's Michael Balick, Ph.D., and Rosita Arvigo, D.N., is the winner of the 2018 Mary W. Klinger Book Award, which is given annually to an outstanding book in the fields of economic botany and ethnobotany.
The culmination of a research project that began in 1987, Messages from the Gods is both a cultural study and a specialized field guide, with information about native and introduced plants in Belize and their traditional and contemporary uses as sources of food, medicine, and fiber and in spiritual practices, among many other purposes. The Society of Economic Botany—the preeminent professional association of researchers who study the relationships among plants, people, and culture, which presents the annual Klinger award—recognized the book as a definitive resource with a breadth and depth of knowledge "that will serve as a primary source on the plants of Belize and their uses for many generations."
"This book is a truly significant volume that culminates decades of close collaboration between the two authors and local experts in Belize who practice and teach plant-based medicine and crafts and who promote the conservation and appreciation of that country's diverse array of plant species, ecosystems, and human communities," said Gayle Fritz, Ph.D., the President of the Society for the last year.
Messages from the Gods was co-published by The New York Botanical Garden and Oxford University Press.