Plan Your Weekend: Continuing Ed Open House
Posted in Learning Experiences, People, Programs and Events on September 19 2008, by Plant Talk
Career Change: A Recent NYBG Graduate's Perspective
| | |
| --- | --- |
| | Curtis Eaves received a Landscape Design Certificate from NYBG's Continuing Education program and is the founder of iGreen, an environmental landscape design firm located in the Hamptons. |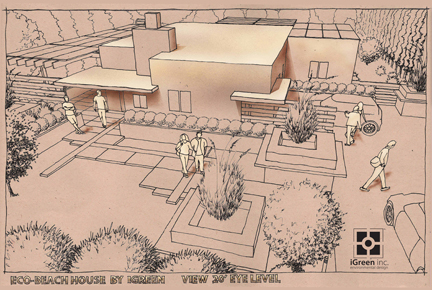 A little over two years ago I decided to change careers. I wanted to work in a field I had a real passion for. My background was design—textiles, clothing, interiors—but I was looking for something that would take me outdoors and connect me with nature.
After researching different institutions that offered programs in Horticulture and Landscape Design, I decided that The New York Botanical Garden offered the very best program, and therefore I enrolled to pursue a Certificate in Landscape Design.
Several years ago when I taught design courses at the Fashion Institute of Technology, I realized that curriculum is enhanced when presented by experienced professionals. This approach to teaching is just one of the many great things about courses taught at the Botanical Garden. As practicing industry leaders, the Garden staff and faculty have the unique ability to share their "real world" experiences and insights with the students.
My time enrolled in the Landscape Design Certificate Program became such an enlightening experience, filled with the new creative challenges I was seeking. Not only did I gain a solid foundation, but the comprehensive class material provided by the knowledgeable faculty made the Garden an exciting and fascinating atmosphere in which to learn. I feel certain that I have been provided with the necessary tools, knowledge, and confidence to succeed in the landscape industry while pursuing my dreams and goals.
Just after graduation this past June I launched iGreen, a landscape design business that is based on the east end of Long Island. I am amazed at the level of respect and trust I receive from new clients when they become aware that I received my certification from The New York Botanical Garden. NYBG has inspired me with passion to create and build sustainable "green" designs that are both aesthetically pleasing and environmentally sensitive.
This eco-friendly philosophy is the driving force behind iGreen, so to stay current and informed on how to implement these ecological techniques, I plan to attend the new Environmental Gardening courses now being offered at the Botanical Garden.
To learn about NYBG's Continuing Education program and what it can offer you, come to the free Open House on Saturday, September 20, 10:30 a.m.–3:30 p.m.
Check out Saturday's programming.
Check out Sunday's programming.