World's Heaviest Pumpkin at The New York Botanical Garden
Posted in Programs and Events on October 22 2010, by Plant Talk
Ann Rafalko is Director of Online Content.
The Guinness World Record-holding giant pumpkin is here!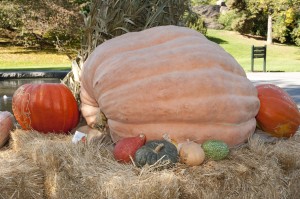 The pumpkin, grown by Chris Stevens in New Richmond, Wisconsin weighs 1,810 1/2 pounds.  It will be on display at The New York Botanical Garden through Halloween along with two other giant pumpkins.  The second weightiest of the group (shown at right) clocks in at 1,725 pounds and was grown by Ken Sweet in Washington, Michigan.  The third gourd in the giant pumpkin trio was grown by Steve Connolly in Sharon, Massachusetts and weighs 1,674 1/2 pounds.
Pictures cannot convey how impressive these amazing, sustainably-grown 'Atlantic Giants' are. So come see them for yourself! The pumpkins will be on display around the reflecting pool at the Leon Levy Visitor Center through Sunday, October 31.
On Friday, Saturday, and Sunday, October 29, 30, and 31 renowned pumpkin carver Steve Cully will be at the Botanical Garden to carve the record-setting gourd. Cully will attempt to break the Guinness World Record for the Largest Jack 'O Lantern which he already holds!
To plan your visit and learn more about the pumpkins and the Garden, click here. And for eleven fun facts we learned about giant pumpkins from the growers themselves, click here.