Native Azaleas
Posted in Gardening Tips on May 17 2011, by Sonia Uyterhoeven
The majority of azaleas native to North America hail from the states running down the Appalachian mountain range; from Maine to Florida. All of the North American natives are deciduous, tend to have open, loosely branched habits, are known for their hardiness, and for their exquisite fall foliage. Many are scented, with perfumes ranging from sweet to spicy.
Though azaleas in general prefer part sun and moist, humus-rich, well-drained soil, among species there is a broad spectrum of tolerance for heat, moisture, and hardiness. Flowering times are also wide ranging: from early April into August.
Following are some native species and their cultivars that can be found in the Azalea Garden.
Rhododendron alabamense (Alabama azalea): In its native habitat, this low-growing (2 feet), stoloniferous (spreading underground stems) azalea is found on dry hillsides and sandy coastal plains. When planted in rich garden soil, the suckering will be restricted and it will grow to 6 feet tall. The mid-May flowers are white with a yellow blotch and have an intense, spicy, lemon fragrance.
Rhododendron arborescens (sweet azalea): This large azalea averages 8 to 15 feet tall when mature. With a preference for well-drained, consistently moist soils, it is found on the banks of mountain streams. The flowers, which bloom from late June into July, are typically white with a striking red style and filaments (reproductive parts) that jump out at you. Its fragrance is reminiscent of heliotrope (cherry pie), and its foliage turns red in fall.
Cultivars: 'Hot Ginger and Dynamite', 'Pink Smokey', 'Summer Parasol', 'Sweet and Lowdown'
See also: Azalea Planting Tips
Rhododendron atlanticum (coastal azalea): This low grower spreads along stolons and generally doesn't get above 3 feet tall. It is native to the coastal plains from New Jersey to Georgia. White fragrant flowers are tinged with pink and appear in mid-May. It prefers moist soil and more sun than many azaleas, and is borderline hardy in New England.
Cultivars: 'Milenberg Joys', 'The Pearls'
Rhododendron austrinum (Florida azalea): This azalea, hardy to Zone 6, grows 6–8 feet tall and produces fragrant yellow-orange flowers in late April to early May. The flowers form dense clusters and range in color from shades of yellow to red but are generally yellow-orange or orange-red. The shrub takes on a round habit when planted in sun and an upright habit when in part shade.
Cultivar: 'Millie Mac'
Rhododendron calendulaceum (flame azalea): This statuesque azalea can reach 12 feet in height. The color of its flowers speaks to its common name, with tones ranging from yellow to orange and red. Late-May to early-June blooms give way to red foliage in autumn.
Rhododendron canadense (rhodora): A small upright grower, this azalea grows from 3 to 4 feet tall and has reddish-purple flowers that open in April. Its native range extends from Canada to Pennsylvania, making it suitable for cooler climates. It likes moist sites and does well in part shade.
See also: Azaleas A to Z: Know Them to Grow Them
Rhododendron cumberlandense (Cumberland azalea): Sometimes referred to as R. bakeri, this plant is a compact version of the flame azalea, this azalea reaches 3–8 tall and blooms two weeks later than the flame azalea (late June to July). The flowers of the Cumberland azalea are a deep reddish-orange in color.
Cultivar: 'Camp's Red'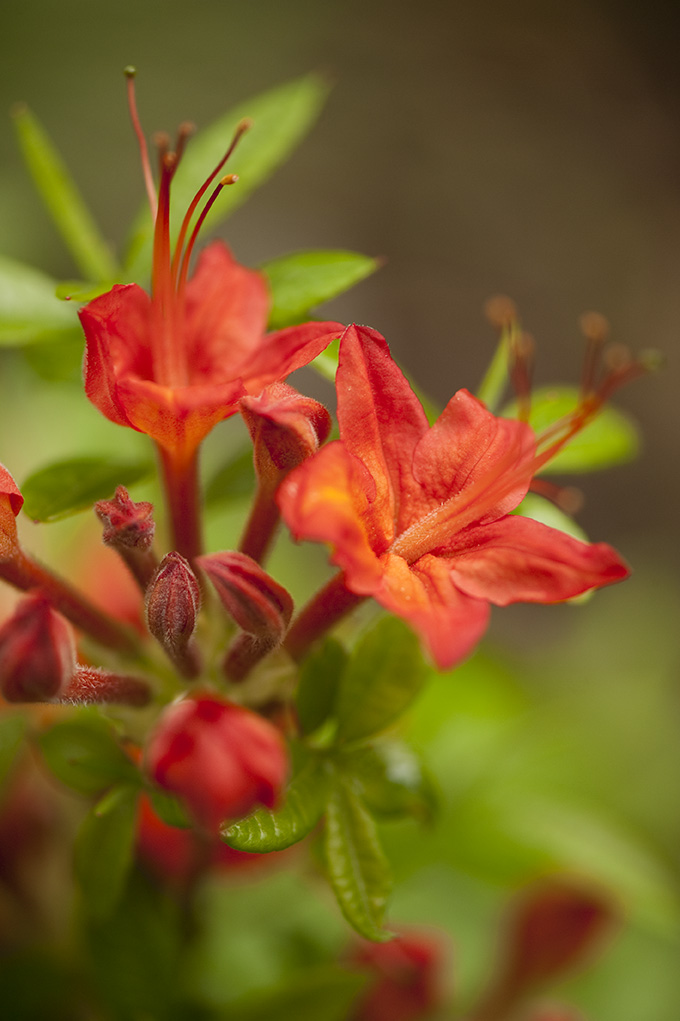 Rhododendron flammeum (Oconee azalea): Due to its heat and drought tolerance, this azalea is often hybridized with other species. Native from Georgia to South Carolina where it is found in open woods and on slopes, its late-May flowers range in color from yellow to orange-red. It generally reaches a height of 6–8 feet.
Rhododendron periclymenoides (pinxterbloom azalea): A woodland understory plant averaging 4–6 feet tall, the pinxterbloom, formerly known as R. nudiflorum, fares better in heavier shade than most azaleas. Its slightly fragrant light- to dark-pink flowers open in late April to early May.
Rhododendron prinophyllum (roseshell azalea): Synonymous with R. roseum, the pink flowers of this intensely fragrant, clove-scented azalea open in late May. Its bright-green foliage turns a yellow-bronze color in fall. Indigenous to open woods and stream banks from Quebec to Virginia and across to Missouri and Oklahoma, it is hardy in cold climates and grows 4–8 feet tall.
Cultivar: 'Marie Hoffman'
Rhododendron prunifolium (plumleaf azalea): This late bloomer has rich orange-red flowers that appear in mid to late July and glossy green foliage. It grows to 6–10 feet tall.
Cultivar: 'Late Lady'
See also: Top Tips for Designing with Azaleas in the Home Garden
Rhododendron vaseyi (pinkshell azalea): This azalea's upright form averages 5–10 feet in height. Its pink flowers appear in early May, before the foliage, which turns red in fall.
Cultivars: 'Pinkerbell', 'White Find'
Rhododendron viscosum (swamp azalea): This stoloniferous (spreading), hairy azalea is normally found in swamps or by fresh water ponds and averages 3–5 feet tall. Nicknamed swamp honeysuckle, its sticky white flowers have a clove-like fragrance and bloom in June and July. It grows well in sun or shade and in wet conditions.
Cultivars: 'Betty Cummins', 'Bob's Bayou Beauty', 'Delaware Blue', 'Pink Mist'