Posted in Gardening Tips on April 10 2012, by Sonia Uyterhoeven
Sonia Uyterhoeven is the NYBG's Gardener for Public Education.
---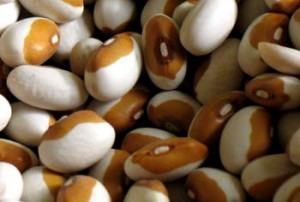 If you haven't already gone out to buy your seeds for your vegetable garden, now is the time to do it. I have been reading Steve Sando's 'The Rancho Gordo Heirloom Bean Guide' and would like to talk today about an overlooked topic: heirloom beans.
Some of you may sigh and think, "Oh, beans! Why doesn't she talk about heirloom tomatoes or peppers?" But beans are one of the easiest things to grow in the vegetable garden; as legumes they are nitrogen fixers, so they don't deplete the soil of nutrients, and they come in a delicious variety of mouthwatering flavors when you grow them from seed (I'm not kidding). Some are nutty, some are buttery, some are starchy, some are creamy and some are meaty.