A Crabby Disposition
Posted in Around the Garden, Gardens and Collections on April 13 2012, by Matt Newman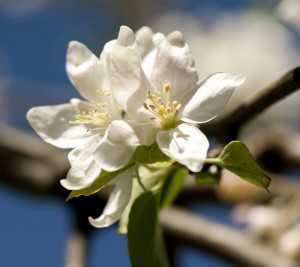 I remember my dad telling me, rather gleefully, of fall afternoons spent pelting his friends with rock-hard crabapples flung from his homemade slingshot. It's a Dennis the Menace trope in its purest form. But it also seems a fitting use for a fruit some say is named for its disagreeable nature. And if you were to take the dive and snack on a crabapple off the branch, with few exceptions you would probably find yourself cringing as if you'd just sampled a wedge of unripe lemon.
With the cherry trees doffing their hats until next year's flower effusion, the questionably edible crabapples are only too willing to steal away the spotlight with looks (and being in the rose family, the crabapples have them in spades). The crabby name belies the abundance of blossoms which spot the grounds with cloudy displays of ivory, fuchsia, and burgundy. And the history of crabapples at The New York Botanical Garden is equally as rich, beginning early in the Garden's life with a planting of trees near Twin Lakes. Later, in 1930, the collection moved to its current home in the southwest section of the grounds. Placed in neat rows along Daffodil Hill, the many cultivars–rare and common alike–burst into effervescent color just after the daffodils have faded. This year's bizarrely early spring has, of course, given us the benefit of both beauties sashaying through flirty florescence in tandem.

Not only an intense display for visitors in the spring and fall (when the fruit matures), the multitude of cultivars, heirloom varieties, and wild crabapple specimens that have been collected by the Garden over the past century further offer horticulturists an ideal opportunity to compare hardiness, disease resistance, and growing habits among the many species.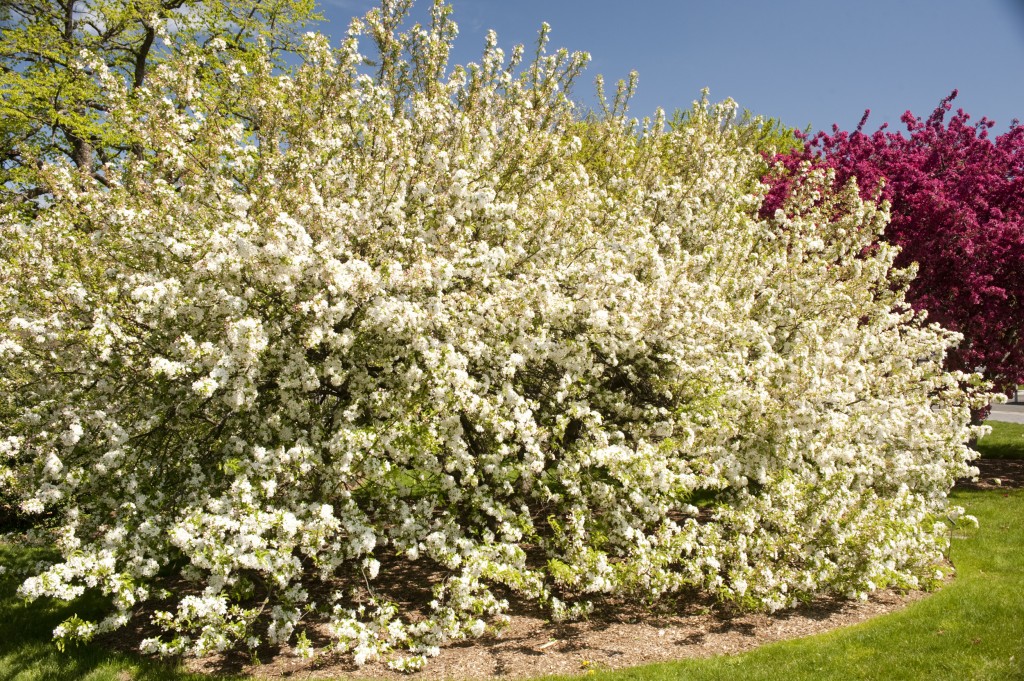 But, again, it's no secret that crabapples are far from the first choice for a hand fruit. Unlike their larger relative, the conventional table apple (Malus domestica), most of the tiny facsimiles in the Malus genus are dense, woody, and prove violently sour. Making them palatable often means stewing the fruits and straining the pulp, then boiling the resulting juice with a heap of sugar to make a deep, ruby-red jelly or jam. This makes them a prime candidate for toast, if not something to eat right from the orchard. But as an accompaniment to more conventional crops, crabapples have some fascinating tricks on hand.
The average draw of the crabapple's fruit may be one reserved for those willing to prepare it properly, but for farmers–especially those with apple orchards in the north–these trees can be a boon to each year's harvest. Their natural virility (they produce copious amounts of pollen) combined with the ability to freely hybridize with conventional apples makes them perfect pollenizers (not to be confused with pollinators, such as honeybees and hummingbirds). Growers commonly place one crabapple tree for every six or seven apple trees, often to compensate for crop cultivars which don't produce enough pollen on their own to reliably ensure a successful harvest. Bees and other pollinators will then ferry the crabapple pollen between other trees in the orchard. As a further benefit, the hardier crabapples–the Siberian crab, for one–make for useful rootstocks when grafted with conventional apple trees. They then pass on their beneficial traits to the scion plant, allowing farms to harvest healthy crops of apples even at the northern fringes of their recommended growing regions.
Of course, we're not doing any picking at the NYBG. We prefer to enjoy our crabapples not for their namesake, but for the plush explosions of flowers that clothe their branches. The bright autumn fruit is just a bonus.
Be sure to get here while they're flaunting their spring regalia!