Monet Evenings: Charm of the Champs-Élysées
Posted in Exhibitions, Monet's Garden, Programs and Events on June 15 2012, by Matt Newman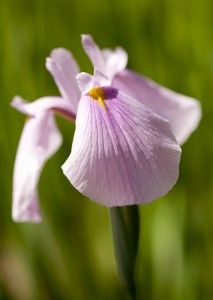 We're bringing the City of Lights to the City that Never Sleeps, and it begins this Saturday night with the first of our Monet Evenings.
Once a month from now through September, the NYBG will host elegant cocktail nights flaunting all the romance of the city on the Seine–the pluck and jangle of Gypsy Jazz, the nostalgic swoon of "La Vie en Rose," the swing of the Zazou movement, or the sanguine strains of Debussy. Because, the way we see it, there's no need to stop at the rural charm of Monet's Giverny when so many of his contemporaries found their muse on the Champs-Élysées. Impressionism goes beyond the context of the canvas, after all.

The night begins at 6 p.m. on June 16 with an after-hours viewing of Monet's Garden in the Conservatory. At 7:30, you'll head outside to launch the festivities with the music of Floanne, an accomplished songstress whose vocal training has seen her through sessions with Jean Brassard, Isengart, and some of the most revered influences in the jazz scene. Her flair for the lilting tunes of the legendary Édith Piaf recalls the cabaret of Le Lido in the '40s, and the vaunted stage of the Paris Olympia. So bring a blanket or a beach chair for a relaxing evening of French love songs on the Conservatory Lawn, sipping a complimentary cocktail to set the mood. Afterward, take advantage of our cash bar and light picnic fare; it's the charm of strolling Parisian parks without having to hit the currency kiosk at Charles de Gaulle.
As I said, this is only the first of four Monet Evenings planned, each a complement to a concert series celebrating the musical stylings of early 20th-century France. But tickets are limited, so plan ahead! Nothing completes the effect of Monet's Garden like an evening under the spring sky, aperitif in hand. And isn't that better than locking yourself up for another marathon of French film noir?
---
Have a MasterCard®? Use it to purchase a ticket to our VIP pre-party in the NYBG's Shop in the Garden! Beginning at 5 p.m. on June 16, you'll enjoy artisanal chocolates, complementary champagne, and special shop savings before heading to the Conservatory for a quiet viewing of Monet's Garden. Afterward, step outside to enjoy the main event.