Monet Evenings: Dressing the Part
Posted in Monet's Garden on July 11 2012, by Ann Rafalko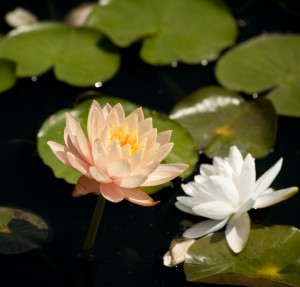 Half the fun of attending an evening event like Monet Evenings Featuring Water Lily Concerts, is getting dressed for it (or at least I think so). You want to look fancy, but not too dressed up; pretty, but not too girly to sit on the lawn; and be physically cool, while still looking cool.
Anyone around the NYBG digital media offices can attest to the fact that I have a workplace uniform and should in no way be trusted to give fashion advice, so I turned to Lilit Marcus.
Lilit is a New Yorker by way of North Carolina, which means she likes fried chicken and bagels equally (you can see why I trust her, right?). Lilit's first book, Save the Assistants, based on the popular blog of the same name, was published in 2010. Her work has also appeared in Glamour, the New York Post, the Forward, and Cosmopolitan. Oh, and she's mighty stylish, which makes her the perfect person to pull this chic little outfit together, just in time for the next Monet Evening, Thursday, July 19, 6-9 p.m. Take it away Lilit!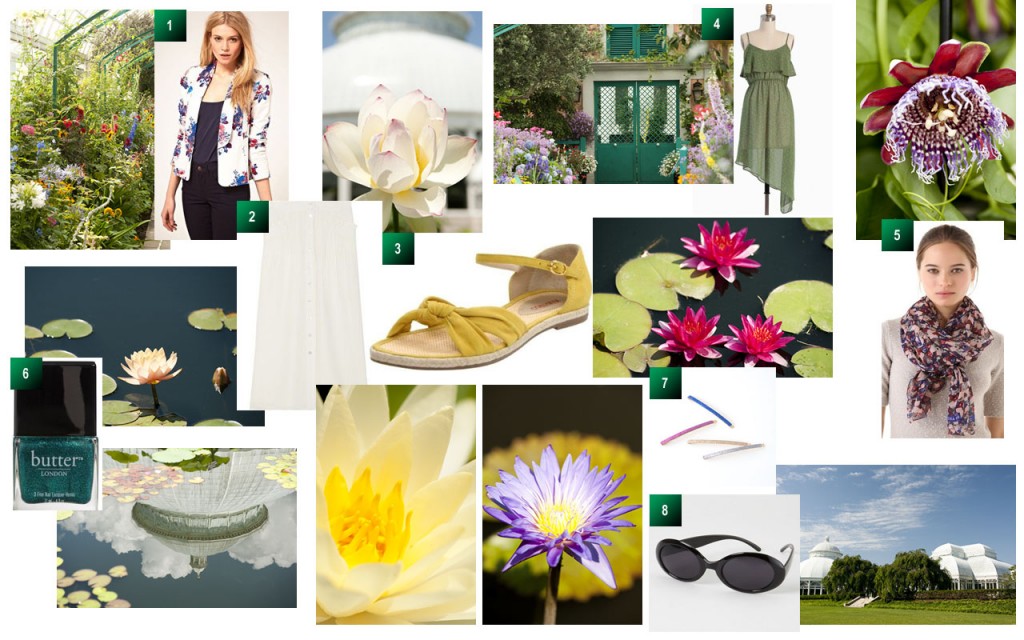 1. The print on this Asos floral blazer looks as if it was pulled directly from Monet's Garden in the Enid A. Haupt Conservatory, and would be perfect paired with the white skirt below and a silky camisole. (ASOS Petite Floral Blazer, $59.65)
2. Billowy and pure like the sacred lotuses gracing the Conservatory Courtyard pools, this silk midi skirt by Tibi is long enough to let you sit effortlessly on a picnic blanket, while chic enough to work downtown if you go out after the concert. (Tibi 'Lillian' Silk Midi Skirt, $127.50)
3. Like the yellow center of Monet's beloved water lilies, these cheery sandals will let you wander the Garden's 250-acres in style and comfort! (Klub Nico 'Eli' Sandal, $153.42)
4. Light as air and bearing a striking resemblance to vert Monet, the cut of this dress begs for a leisurely stroll around the grounds before the concert. (Ruche 'Party Favor' Asymmetrical Sundress, $42.99)
5. Bearing a striking resemblance to the passionflower vines twining around the Courtyard pools, this chic scarf from Marc Jacobs can also double as a seat cushion or hair scarf to tame breeze-tousled locks in a pinch. (Marc by Marc Jacobs Mokume Floral Scarf, $198)
6. Like the glittering surface of the water lily pools, this Butter London nail lacquer evokes a day spent on the water. (Butter London Nail Lacquer in Henley Regatta, $14)
7. As brightly colored as the water lilies 'Gloriosa' and 'Blue Aster' these sparkling bobby pins fit in the smallest of purses (or pockets!) and will keep your 'do in place on a breezy evening. (Ban.do Glitter Bobbi Pin Set, $15)
8. The Water Lily Concerts take place on the Conservatory Lawn (don't forget a picnic blanket or chairs!), which faces west. Therefore, a pair of stylish sunnies are vital. These beauties from Fred Flare are as chic as the Garden, and won't break the bank. (Fred Flare 'Jackie' Sunglasses, $12)