Monet's Water Lilies: Inspiration Meets Obsession
Posted in Gardens and Collections, Monet's Garden on July 5 2012, by Matt Newman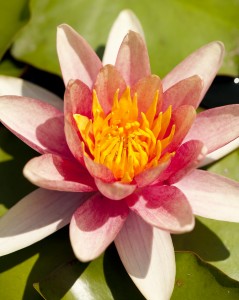 You could call our spotlight on the lotus blossoms an opening act. The true marquee headliners of Monet's Garden–the prima donnas of our current collection–are without a doubt their nearby neighbors, the water lilies. There is no other flower in the landscape of spring, summer, or fall that so thoroughly represents the oeuvre of master Impressionist Claude Monet.
In the closing years of his life, the genus Nymphaea would come to define Monet's obsession. He pulled dozens and dozens of scenes from that iconic spot by Giverny's Japanese bridge, bringing concept to canvas with a verve few painters could match, then or now. Today, his water lily series stands as the ostensible height of his contribution to the history of art.
"It took me time to understand my water lilies," Monet once wrote. "I had planted them for the pleasure of it; I grew them without ever thinking of painting them."

In the pool beyond the glass doors of the Enid A. Haupt Conservatory, our summer display of hardy water lilies is thriving. The French-born hybrids of the renowned Latour-Marliac nursery represent some of the cultivar selections found in Monet's first order of plants. Since 1894, of course, the landscape of water lily cultivation has unfolded in directions that would surely delight the artist. Alongside the classic hybrids in our pool stand contributions from other growers, such as New York's own Perry D. Slocum, a long-lived and imaginative 20th century hybridizer whose work continues to produce startling color and hardiness even now.
Between each flower, we find contrast and complement:
[Not a valid template]
The New York Botanical Garden's water lilies are a summertime staple, but Monet's Garden allows us to show off the varieties which are not only gorgeous, but tie us to a rich botanical and artistic history. It's an opportunity for our visitors to stand by the pool and look out over a scene much like the one Monet must have savored at his garden in Giverny. And, just maybe, it's a bridge between the petals of the plants he grew and the dappled strokes of paint that formed his legacy.
Monet's Garden continues between now and October 21, but the blooms of the water lilies will likely disappear in August. Mark your calendars accordingly for the best opportunity to see them. And for gardeners whose interest is piqued, the planting primers near the water lily pool will give you pointers on how to care for water lilies at home. You can put them to use through our Shop in the Garden, which now offers six varieties of Nymphaea–some of which can be found growing in our exhibition.