Follow Your Nose: One Last Weekend of Sweet and Stinky!
Posted in Around the Garden, Programs and Events, Video on July 19 2012, by Matt Newman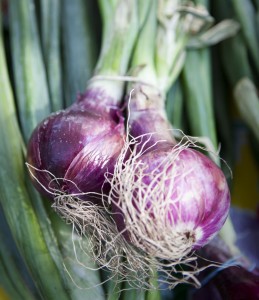 Skip your morning affair with the everything bagel and get to the root of summer's freshest garlic and onions! As Assistant Manager of the Ruth Rea Howell Family Garden, Annie Novak's got a direct line to the most basic of foodie cravings–a knack for not only raising all things allium, but putting them through their paces in the kitchen. So if you happen to catch a whiff of this pungent pair as you wander the NYBG between now and the end of the month, simply "follow your nose" to our Sweet and Stinky events.
That's just what we were doing when we found Annie hard at work in the Family Garden yesterday, tending to the herbs and alliums that star in this flavorful summertime activity. But she can explain the fun of Sweet and Stinky far better than I can, as you'll see below. Just think of it as a double whammy: you'll have something to engage your kids while they're out of school, and they'll be trying new things in our one-acre vegetable garden to boot.


Sweet and Stinky runs from 1:30 to 5:30 p.m. between now and July 27, meaning this will be the last official weekend of the event. Cooking demonstrations in the Family Garden will also be offered at 2 and 4 p.m. on Saturday and Sunday. Be sure to dress the part when you pay Annie a visit, as all of our scavenger hunts and hands-on green thumb activities will be outdoors. That means light clothing, comfortable shoes, plenty of water, and sunscreen!