This Weekend: Cheering Fall in the Forest!
Posted in Around the Garden on November 9 2012, by Matt Newman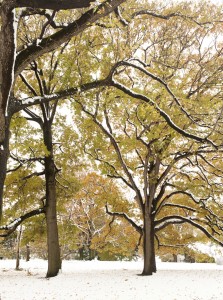 Temperatures are inching up! The sun is bright, and the NYBG doesn't look quite so much like a scene pulled from a Bing Crosby movie. Still, there's enough in the way of pristine snow to remind us of our flirt with winter. The frosty juxtaposition with the very last of the fall leaves, all of it laced over still-green grass, creates a beautiful mosaic of the seasons. And if you're joining us for the end of 2012's Fall Forest Weekends, you'll get to see the scene for yourself, so why am I waxing poetic?
Our schedule through Saturday and Sunday is dedicated to celebrating our 50-acre Forest, the last, old growth remnant of the woodlands that once covered what is now New York City. We not only have educational opportunities and detailed tours in the works, but a docket loaded down with hands-on adventures such as tree-climbing adventures and bird watching. We're also proud to host the Bronx River Alliance's canoe trips along the Garden's own stretch of clear, cool water; it's a rare opportunity to look out on this borough from nature's perspective. You simply can't understand how important green spaces are to the Bronx until you've seen it with a paddle in your hand, passing under a panorama of treetops.

Alongside our Fall Forest Weekend events, our kiku exhibition in the Bourke-Sullivan Display House is also ongoing through November 18. This year's window is limited, but the showcases imagined by chrysanthemum expert Kodai Nakazawa are not to be missed; be sure to stop over by the Nolen Greenhouses for Living Collections to witness his mix of traditional and modern kiku techniques first-hand.
It doesn't matter how old you are–we'll have something to get you involved! So check the schedule below for our Forest events, and see if you can't make room to do a little walking in the wood this weekend.
---
Saturday, November 3 — Sunday, November 4

Fall Forest Weekend — 11 a.m. to 4 p.m.
Explore the NYBG's Forest, the largest remaining tract of old-growth forest in New York City, and immerse yourself in the magnificent colors of fall foliage. Tree-climbing demonstrations, guided tours, and more make for an unforgettable autumn experience.
Tours of the Forest
Themed discovery walks of the Forest take place throughout the day. Wear comfortable shoes and seasonal attire for the weather.
11 a.m. — Birds of the Forest with Debbie Becker
12:30 p.m. — Natural History of the Forest
1 p.m. — Forest Forays for Families
2:30 p.m. — Fall Foliage Tour
3 p.m. — Forest Ecology
Canoe Trips on the Bronx River — A MasterCard® Priceless® New York Experience
Limited spaces available — reservations required for time slots at 11 a.m., 12, 1, 2, & 3 p.m.
During an exclusive MasterCard cardholder experience, enjoy a paddle on the Bronx River with the Bronx River Alliance and experience the beauty of this reclaimed local gem, home to an incredible variety of fish, birds, and even beaver! The Alliance works toward the conservation of the river as an ecological, economic, and community resource. Spaces are limited and tickets must be purchased in advance. Get more information and reserve your tickets here.
Citizen Science at the Garden – 11 a.m. to 4 p.m.
NYBG volunteers have been tracking the tree cycles of leaf, flower, and fruit development for more than five years. Look closer at the trees within the Forest and gain a whole new perspective from this vantage point. Get help with tree and plant identification and come away with the knowledge to explore and understand the trees in your own neighborhood.
Compost Q&A – 11 a.m. to 4 p.m.
Take home some tips from the NYC Compost Project on how to recycle garden trimmings and food scraps into a nutritious amendment for garden soil.
Birding at the Garden – 12 to 4 p.m.
The Forest is an important habitat for birds and animals as well as being a beautiful, quiet retreat. Learn about the birds and animals that call the Forest home from Debbie Becker, who has been leading tours at the Garden for more than 25 years.
Home Gardening Demonstration: Forest Foray – 2 p.m.
Fancy a walk in the woods? Join Gardener for Public Education Sonia Uyterhoeven as she guides you through the Forest, discussing the restoration process of the woodland and providing pointers for your own woodland gardens.
We are looking forward to your visit and hope you enjoy your adventure!
---
Ongoing Children's Programs

TREE-rific Trees
Everett Children's Adventure Garden, November 6-11
Guided Activities: Weekdays 1:30 to 5:30 p.m. / Weekends 10 a.m. to 5:30 p.m.
Children journey into the exciting, magnificent world of trees. They'll dig deep into the inner lives of these large plants, get to know them from roots to branches, and discover how they transform through the seasons.