Christian Primeau Talks Terrariums
Posted in Gardening Tips, How-to, Video on December 17 2012, by Matt Newman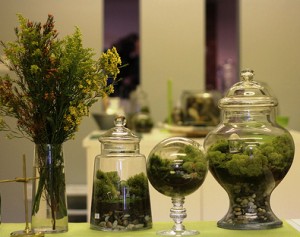 Let's just say it's not your everyday cubicle. The grids of Victorian glass and arching metal framework make for a view you'll never find behind drawstring blinds. Come to think of it, desktop computers have a rough time with the falling mist in the rain forest houses, too. But as Manager of the Enid A. Haupt Conservatory, Christian Primeau's workspace is as much an office as yours or mine. Just bigger, brighter, and more…flush with growing life. For our part, we make do in the Library Building with a potted basil plant, and one or two ferns to hold down the window sill. But that's not to say a novelty cactus is your last hope for office decor!
Instead, take a hint from the Tumblr crowd's fascination with these living bubbles and get involved with terrariums; it's like having a mini conservatory sitting on your desk, and you don't even have to get a permit to run hose attachments into the building.

We caught up with Christian last week to get the rundown on creating tiny glasshouses for ourselves (or not so tiny, depending on your ambition). He was more than willing to share a bit of his brain power when it comes to this simple but effective horticultural artform.
From plants to substrate, you'll find just about everything you need to assemble your terrarium in our Shop in the Garden. If it's more your speed, we'll even put one together to make sure your desk decoration has that all-important professional touch. And as gift-giving inches its way to the top of everyone's schedule, consider giving friends and family something that's not only elegant, but heartfelt. Besides, a terrarium is far and away better than signing the card on yet another hopeless gag gift.
---
Header image courtesy of Robert Wright and our friends at TwigTerrariums.com.