Posted in Gardening Tips, How-to, Video on December 17 2012, by Matt Newman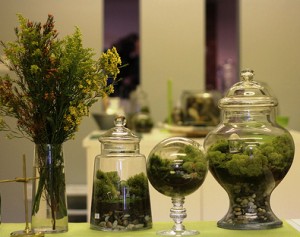 Let's just say it's not your everyday cubicle. The grids of Victorian glass and arching metal framework make for a view you'll never find behind drawstring blinds. Come to think of it, desktop computers have a rough time with the falling mist in the rain forest houses, too. But as Manager of the Enid A. Haupt Conservatory, Christian Primeau's workspace is as much an office as yours or mine. Just bigger, brighter, and more…flush with growing life. For our part, we make do in the Library Building with a potted basil plant, and one or two ferns to hold down the window sill. But that's not to say a novelty cactus is your last hope for office decor!
Instead, take a hint from the Tumblr crowd's fascination with these living bubbles and get involved with terrariums; it's like having a mini conservatory sitting on your desk, and you don't even have to get a permit to run hose attachments into the building.