Posted in Gardening Tips on April 30 2013, by Sonia Uyterhoeven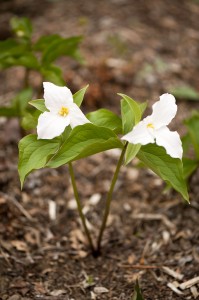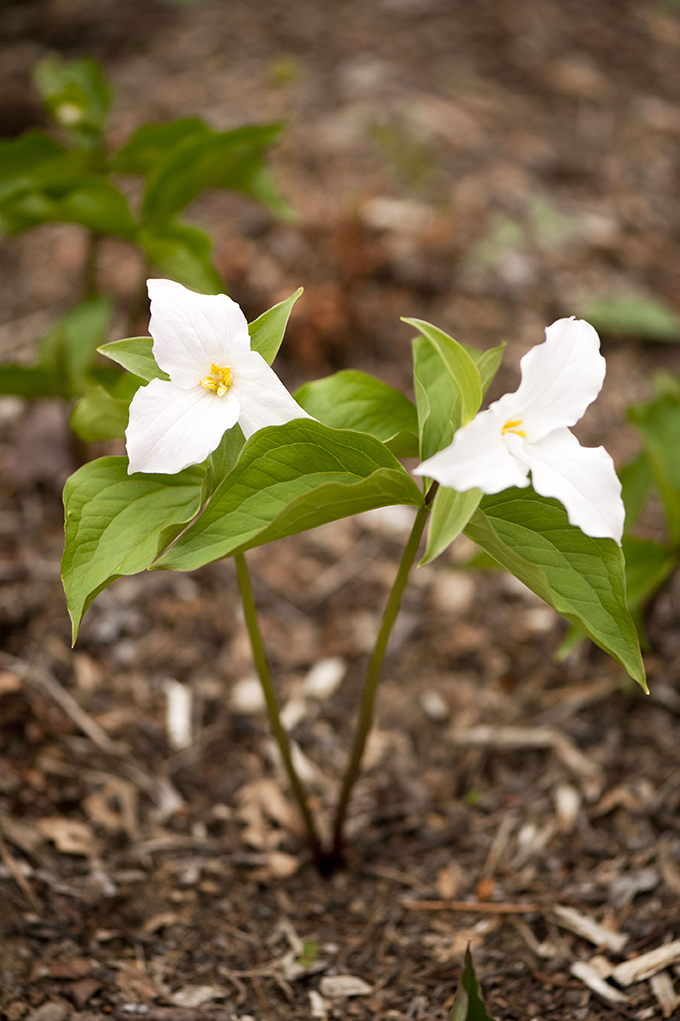 I was out in the woodland area of our soon-to-open Native Plant Garden and found myself overwhelmed by the beauty of all the different species of trillium we have planted there. Trilliums bloom in early spring, taking advantage of the time on the forest floor before the trees grow leaves and cast shade upon them. Trilliums, much as their name might suggest operate in threes: three leaves, three sepals, and three petals. The leaves are arranged in whorls wrapping around the stem from a single point. The result is a graceful zygomatic symmetry. Triullums are undoubtedly one of the most showy and elegant trichotomous woodland native plants.
There are two types of trillium, sessile and pedunculate. The flowers of sessile trilliums rest on the leaves without a flower stalk while pedunculate trillium flowers are elevated by a stalk. Sessile trillium tend to have mottled leaves that are spotted with silver or maroon coloring while pedunculate trillium have green foliage. Trilliums are slow to grow on their knobby rhizomes, but will slowly spread and form a nice clump, though it may take up to seven years before they flower if you plant them from seed. But, the pay-off is that once a clump is established in your garden it will live for decades.