An Angel of an Artist
Posted in People on April 4 2013, by Scott Mori
Scott A. Mori is the Nathaniel Lord Britton Curator of Botany at The New York Botanical Garden. His research interests are the ecology, classification, and conservation of tropical rain forest trees. His most recent book is Tropical Plant Collecting: From the Field to the Internet.
---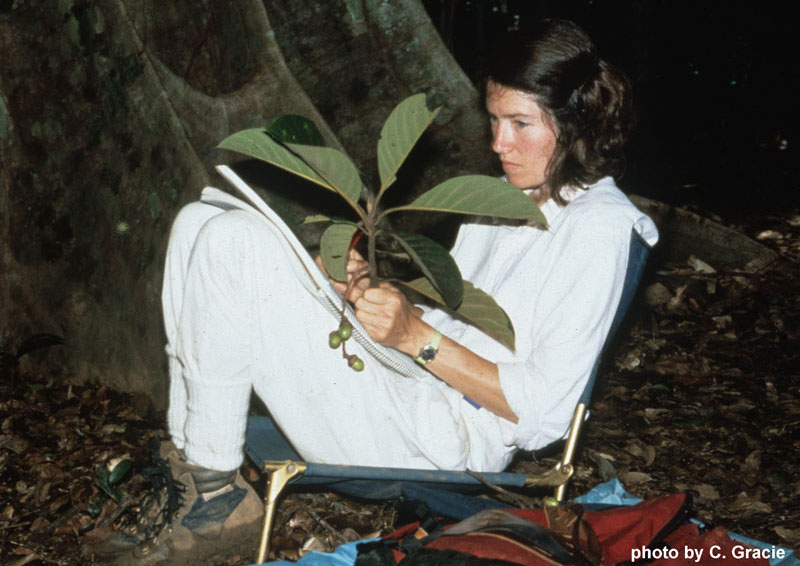 A month ago, I blogged about the use of fine art by botanists to illustrate the plants and habitats they study. That blog was based on the work of Michael Rothman, who has prepared 20 paintings to illustrate the research of the Curators of the Institute of Systematic Botany at the NYBG.
Today, I discuss the importance of botanical line drawings in illustrating the diagnostic characteristics of plants. The value lies in the fact that they either represent species new to science, or the illustration makes it easier for users of scientific and popular publications to determine the names of plants they have an interest in. Fortunately, soon after my return from a two-year stay in Bahia, Brazil in 1980, I was introduced to Bobbi Angell; after seeing samples of her drawings, I asked her to illustrate species of the Brazil nut family (Lecythidaceae) for a monograph that Ghillean T. Prance–then Vice President for Science at the NYBG–was preparing with me.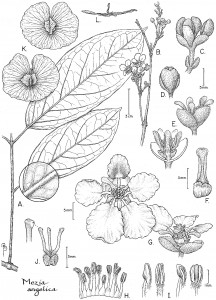 Bobbi graduated from the University of Vermont with a degree in Botany, discovering that she had the ability to render accurate images of plants while preparing drawings during her taxonomy class. Impressed by her work, Bobbi's teacher encouraged her to become a botanical illustrator, and after 35 years her enthusiasm for the profession has yet to diminish. In addition to artistic talent, Bobbi holds a love of plants best evidenced by the enormous flower garden she maintains in rural Vermont, not to mention her ability to appreciate the diversity of plants she illustrates in her work. She especially enjoys being in the field while sketching her subjects, having traveled to French Guiana, Ecuador, the southwestern United States, and the Caribbean on expeditions with NYBG Curators.
On several occasions, Bobbi traveled to French Guiana to prepare drawings for the Guide to the Vascular Plants of Central French Guiana. A typical day on those expeditions involved being in the field before 8 a.m. with a team of botanists in search of plants to add to the archive of the William and Lynda Steere Herbarium. Their strategy was to walk along trails while searching the ground, scanning the understory, and using binoculars to carefully examine the tree tops–all in an effort to find flowers, fruits, and seedlings that would increase our knowledge of French Guiana's plants.
When a flower was spotted on the ground, the tree from which it fell was located and a means of collecting specimens determined. Often, this would mean either climbing the tree itself or scaling an adjacent tree, one close enough that a scientist could reach over to the flowering tree and cut a branch with a long pruner. Smaller pieces were then cut from that branch and used for preparing herbarium specimens.
While one scientist climbed a specimen tree, those remaining on the ground continued to search for fertile plants. During one such expedition, my wife, Carol Gracie, discovered an orchid flower peeking out from beneath the leaf litter. She moved to pick up what she thought was a fallen flower, only to realize that it was attached to a stem. The plant, an orchid called Uleiorchis ulei, had only been gathered on one other occasion in northern South America, and although it was abundant that year, we we had not seen it before–nor have we found it again.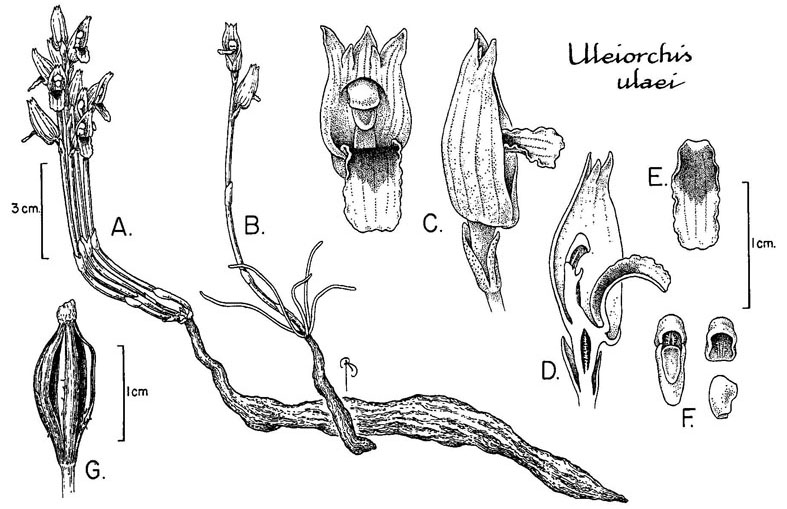 The specimens with the best flowers or fruits were at last given to Bobbi for sketching, which, along with photographs and pickled material, served as the basis for the line drawings (as shown in the accompanying images) finalized in her Vermont studio. Her studio is equipped with a dissecting microscope, which she uses to observe the details of flower structure so eloquently illustrated in her drawings.
In all, Bobbi has prepared close to 500 illustrations for my various projects, as well as thousands of other drawings for my fellow botanists. Bobbi's love of nature, training as a botanist, and inherent skill make her one of the finest and most productive botanical illustrators of our time!