Native Black Locust Trees Make an Entrance
Posted in Around the Garden, Gardens and Collections, What's Beautiful Now on July 11 2013, by Joyce Newman
Joyce H. Newman holds a Certificate in Horticulture from The New York Botanical Garden and has been a Tour Guide for over seven years. She is the former editor of Consumer Reports GreenerChoices.org.
---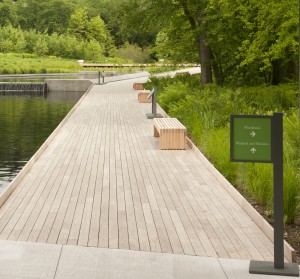 The Native Plant Garden's entrance decking, promenade, and benches are all made with lumber from native, sustainably harvested black locust trees (Robinia pseudoacacia)—a wonderfully durable, rot-resistant hardwood species with a long and colorful history.
Native Americans in Virginia made bows from black locust and are believed to have planted the trees moving eastward from the Southern Appalachians. Colonists at Jamestown reportedly used the trees to build corner posts for their first homes. The wood was also used by pioneers for fence posts, ship masts, and for pegs—called trunnels—in ship building.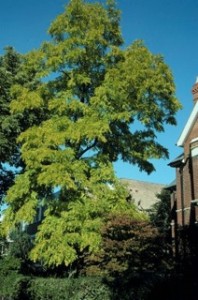 When wet, the wood expands and becomes leak proof. So the ship trunnels were so strong that they lasted even longer than the ship hulls. According to naturalist Donald Peattie, after the War of 1812, the British claimed that they were defeated on Lake Champlain because of the superiority of the Americans' "locust fleet" built with the trunnels.
Black locust trees grow rapidly by sending out underground stems that send up new shoots to form new trees. For this reason some considered them to be invasive or at best a nuisance. Because the tree spreads naturally, it is usually found in groves and these can be managed sustainably. For outdoor projects in the New York metro area, some progressive landscape architects seem to be using it more frequently as an alternative to tropical hardwoods.

For example, at the entrance to the Queens Botanical Garden Visitor Center, black locust provides the decking as well as the sun baffles.
And an amazing new pedestrian bridge, made from 100,000 pounds of black locust lumber, takes visitors into the Brooklyn Bridge Park from Squibb Park. Ted Zoli, the structural engineer on the Brooklyn project, says that black locust is twice as strong as concrete, but much lighter.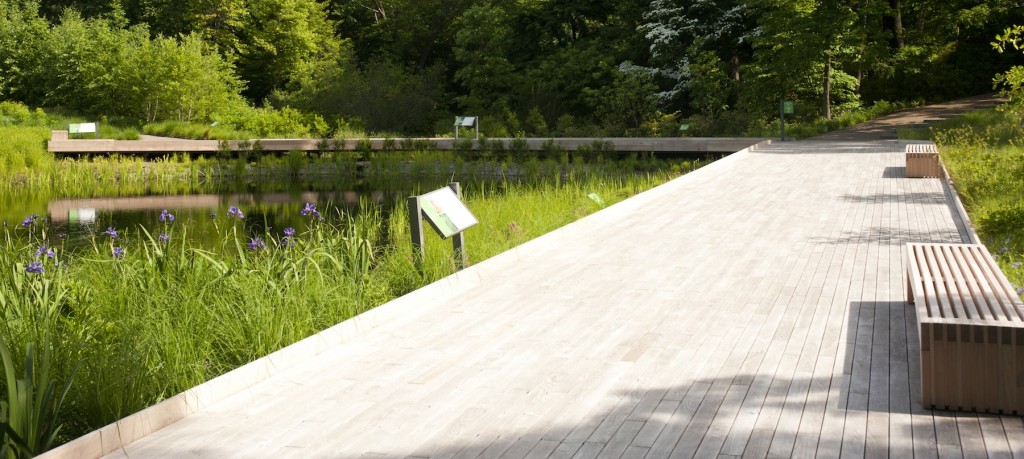 As for color, the black locust used in the Native Plant Garden is now a light golden tan, but the wood is known and loved for its changing color—it ages to a fine grey patina. Perhaps we'll see the changes gradually in the coming weeks and months.