Posted in Around the Garden on December 31 2013, by Sonia Uyterhoeven
Sonia Uyterhoeven is the NYBG's Gardener for Public Education.
---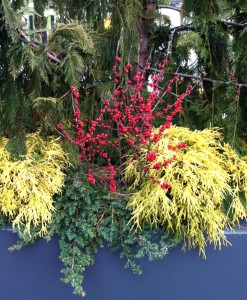 While many of us are spending the last day of 2013 furiously editing our list of New Year's resolutions into something manageable, The New York Botanical Garden is still running full steam ahead with holiday cheer. There are no signs of diets, abandoned gym memberships, or disorganized files to be found—quite the opposite, in fact! The Holiday Train Show is running through January 12 with some marvelous new attractions sure to capture the imaginations of first-time and frequent visitors alike. And for those of you looking to entertain small children, All Aboard with Thomas and Friends returns this Wednesday, January 1, for nearly a month of mini performance adventures featuring sing-alongs and photo opportunities with the famed locomotive.
Meanwhile, it's a beautiful time of the year to bundle up and take a leisurely walk around the Garden grounds. The Benenson Ornamental Conifer Collection is looking its boreal best with its extensive collection of unusual evergreens suited to both sunny and shady locations.