A Century of Stardom
Posted in Horticulture on August 1 2014, by Marc Hachadourian
Marc Hachadourian is the Director of The New York Botanical Garden's Nolen Greenhouses for Living Collections.
---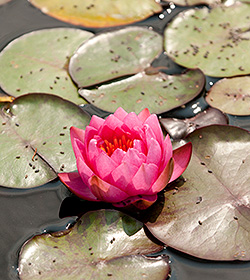 In the dog days of summer, when many plants are looking tired from the heat and humidity, there is one group of plants that is at its absolute peak of perfection with a non-stop display of color and fragrance in the courtyards of the Enid A. Haupt Conservatory. The Water Lily Pools are dotted with outrageous blooms of intense color and fragrance. From the prehistoric-looking, platter-like leaves of the Victoria cruziana to the vibrant hues of the tropical water lilies, they never fail to put on a spectacular performance.
Sometimes overshadowed by their tropical cousins, the hardy water lilies have a more subtle beauty. Perhaps one of my all-time favorite hardy water lily hybrids is Nymphaea 'James Brydon'. It has exquisite six-inch, cup-shaped blooms in deep rose that rest just on the surface of the water amongst the dark green foliage.
This wonderful hybrid has been in cultivation for over 100 years and has been a favorite of water garden enthusiasts since its introduction in 1899. Records show that it was even grown by Claude Monet himself in his garden at Giverny, the muse for some of his most famous artwork.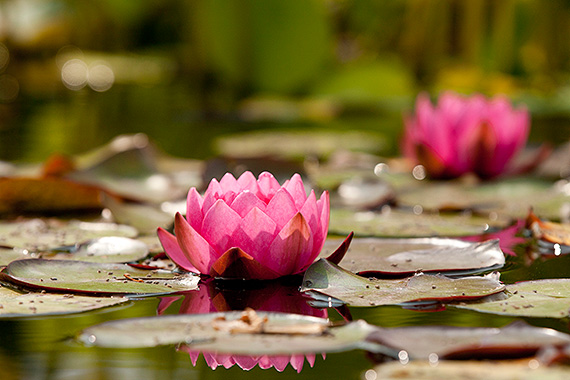 The color and shape of the blooms is so distinctive that you can even identify the plant in some of Monet's Impressionist paintings. He acquired his plant in 1904 from the famed nurseryman and water lily hybridizer Joseph Latour Marliac, who also created many of the other hybrids that share the stage with N. 'James Brydon' in the Hardy Lily Pool. Nymphaea 'James Brydon' is readily available and is a plant that would make a wonderful addition to any home garden pool. It is even small enough to grow in a half-barrel water garden on a patio or balcony. Despite the cultivar being over 100 years old, it still is one of the great stars of the summer water garden in the Enid A. Haupt Conservatory.