Posted in Horticulture on July 29 2016, by Marc Hachadourian
Marc Hachadourian is the Director of The New York Botanical Garden's Nolen Greenhouses for Living Collections.
---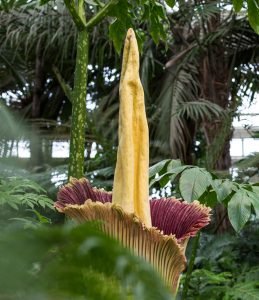 As a kid growing up in Northern New Jersey I was fascinated with biology and the diversity of nature. The idea of plants that catch and devour insects, trees thousands of years old reaching up like sky scrapers, and plants developing an army of vicious spines as defense was irresistible. I read as much as I could find about strange and unusual plants. I distinctly remember seeing an illustration and a description about a plant with a flower as large as a human, one that took ages to reach blooming size, smelled like rotting flesh, and looked like it came from outer space—it all seemed too wild to be true.
The blooming of Amorphophallus titanum has been one of the "holy grails" of botanical garden horticulture since the first plants were coaxed into bloom by gardeners nearly a century ago. First recorded by science in 1878, I can only imagine what botanists thought upon seeing the inflorescence for the first time. Anyone who has seen reports or images of the plant in flower would agree these plants look more like photographic trickery than reality. Often described as a "once in a lifetime event," it is no wonder that when a plant of the Corpse Flower blooms it creates a sensation, with people flocking to see it with their own eyes.