Ethnobotany Explorers Bring STEM to GreenSchool
Posted in Children's Education, Learning Experiences on August 8 2014, by Tai Montanarella
Tai Montanarella is the Manager of School and Family Programs for The New York Botanical Garden.
---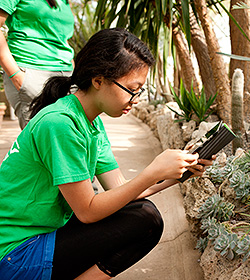 What is an ethnobotanist, anyway? This was the question on the minds of six New York City public school students who were accepted to participate in Ethnobotany Explorers, a new summer academic enrichment program offered to middle through high school students.
Funded in partnership with New York City Department of Education STEM Matters, these lucky teens got to spend four weeks in July learning the answer while building on a tradition of enthnobotanical scientific study at The New York Botanical Garden that goes back over a century.
Using the GreenSchool—a classroom located below the American Desert house of the Enid A. Haupt Conservatory—as their field site, these teens immediately immersed themselves in the role of ethnobotanists as they observed some seriously mysterious and strange looking plant parts. Using only their five senses and taking notes, while relying on each other and their trusted leader, Children's Education Specialist Hyo Kim, for information, this new crop of Ethnobotany Explorers began to ask their own intuitive questions for clues about each of the mystifying plant parts. Where is it from? How does it grow? Can people eat it? Does the plant have any special religious or folk meaning? And so began their understanding of the tenets of ethnobotany: people, plants, interactions, and uses.
While respecting time-honored scientific traditions such as direct sensory observation, primary interviews, and careful note-taking and illustration in field journals, by day two, these modern-day explorers quickly advanced their framework for scientific learning by incorporating one of the latest technological tools, the Apple iPad. Campers quickly recognized the benefits of using their iPads and the useful website Padlet as they created an Ethnobotany Explorers account which would become their own central information station over the next three weeks.
Beginning with choosing their own plant to "collect" at the Wednesday NYBG Greenmarket, and then researching that plant's origin and uses at the LuEsther T. Mertz Library, and finally experimenting and tracking growth of its seeds or cuttings over time under Gro-Lights, students published all of their data related to each of these processes to "Padlet Walls". This created an organized platform which not only facilitated collaboration between campers but with those invited to view their work and post comments and feedback. See for yourself!
This slideshow requires JavaScript.
However, it wasn't just the plant research story which helped contextualize students' understanding of what an ethnobotanist does. Their ideas were also formed by their varied experiences in and around their 250-acre summer campus. From visiting the William and Lynda Steere Herbarium to view over seven million preserved plant specimens, to performing a transect in the 50-acre Thain Family Forest, to conducting ethnobotanical interviews both with a traditional healer at a local Botanica and at the Ruth Rea Howell Family Garden Global Gardens, to constructing their own recycled pallet garden at a Bronx Community Garden, these students immersed themselves in the multi-dimensional professional roles within a garden setting that also contribute to important botanical research.
But even the latest advances in technology and its integration into exciting ethnobotanical exploration cannot overshadow the very human summer camp tradition of making new and interesting friends, working as a team, and as one Ethnobotany Explorer put it, having a chance to "grow as a person."
You can decide for yourself by viewing the Ethnobotany Explorers' culminating Public Education Video Project.