A Garden and a Landmark, Thanks to Your Support
Posted in Gardens and Collections on September 22 2014, by Lansing Moore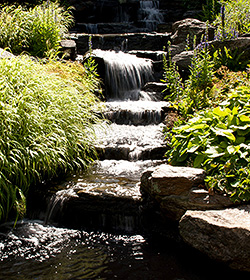 Two years ago, we began a process that would ultimately lead to the restoration of our historic Rock Garden cascade. Originally a project of the horticulturist T. H. Everett and the Depression-era Works Progress Administration, the waterfall at the center of this 2.5-acre refuge had fallen into disrepair when it was selected as a candidate for 2012's Partners in Preservation competition. This campaign offered grants of $250,000 to whichever sites were most chosen by online voters.
Thanks to New Yorkers and fans of the Garden like you, we won! The Rock Garden was one of sixteen sites to receive a Partners in Preservation grant in 2012. This past April, we reopened the Rock Garden to visitors, with the cascade bubbling in full health for the first time in years. With the recent approval of our final report, our grant is now complete and we want to extend the most heartfelt thanks to Partners in Preservation, a joint venture of American Express and the National Trust for Historic Preservation, and of course to everyone who answered the call to vote.
NYBG was one of only a handful of sites seeking a grant to restore a landscape, as opposed to an architectural structure. By voting for us, our supporters helped set a valuable precedent for treating outdoor spaces the way we treat other beloved landmarks, and dedicating resources for their preservation.
This slideshow requires JavaScript.
The Rock Garden is a secluded part of the grounds, reflecting the modesty and romance of its time. It was built as part of a campaign to lift the country out of rough times, by New Yorkers who embodied that industrial spirit. With the Rock Garden's restoration now complete, we can see how that spirit lives on in our city.
Partners in Preservation awarded over $10 million in grants to historic sites in cities across the United States over the course of its annual campaigns. While the project may have ended last year, there are still many ways to show your support for the Garden.