Jens Jensen: A Lasting Legacy
Posted in Humanities Institute, Programs and Events on June 3 2015, by Vanessa Sellers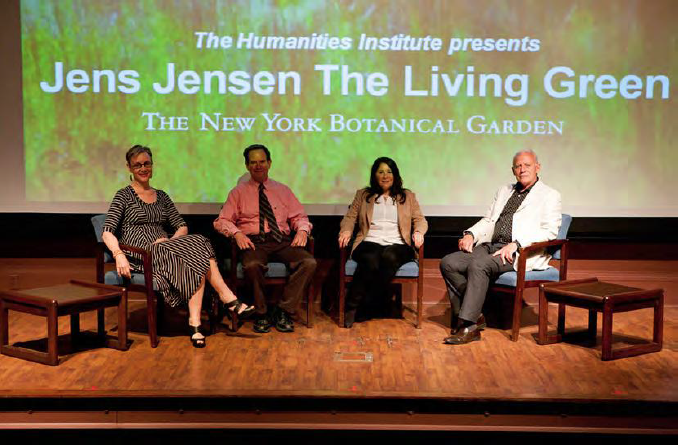 "We all need the living green or we'll shrivel up inside. To make the modern city livable is the task of our times."
– Jens Jensen
On Earth Day, Wednesday, April 22, The Humanities Institute hosted New York City's only screening of the award-winning documentary, Jens Jensen The Living Green. Followed by a panel featuring the film's director and scholars in ecological landscape design, the event attracted more than 200 people in an exploration of the work of Jens Jensen (1860–1951) and its relevance to today's urban environmental issues. Jensen was a passionate environmental activist and now, 50 years after his death, he is hailed as a pioneer of sustainable design, an early champion of native species, and a visionary landscape designer.
The audience was welcomed by Vanessa Bezemer Sellers, Coordinator of the Humanities Institute, and by the Danish Consul General, Ambassador Jarl Frijs-Madsen, who provided an engaging introductory account of Danish immigration history. Jensen was part of this history, as he and his wife Anne Marie emigrated from Demark in 1884. At the time Chicago was the world's fastest-growing city; children worked in factories and squalid tenement living was the norm for many industrial workers. There were no parks or natural surroundings for the poor to enjoy, particularly on the west side of Chicago where Jensen lived.
Hired as a street sweeper by the Chicago West Park Commission, Jensen advanced quickly and was soon designing gardens. In contrast to the traditional European-styled formal gardens favored at the time, Jensen's first work—the American Garden in Union Park (1888)—featured native prairie species. He continued to embrace the beauty and uniqueness of native plants in his work, and by 1905 had risen to the title of general superintendent of Chicago's West Park System.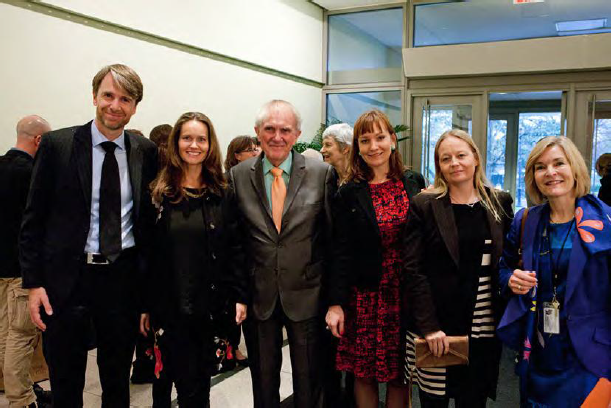 Jensen developed "delayed view" landscapes in which he purposefully created clearings in the treescape to enhance the prairie view, wound his pathways between shadow and sunlight, and highlighted the native plants and materials. This unique design aesthetic rejected that of the neo-classical 1893 Columbian Exposition, and with architects Frank Lloyd Wright and Louis Sullivan, Jensen embraced the prairie as inspiration for his urban landscapes. In his parks, workers' children enjoyed playgrounds and grew food in community gardens, and Jensen became known as "The Vexing Thorn" for his passionate battles with Chicago's political bosses over the city's future. In 1920, Jensen left the Parks Department and started his own practice, including extensive work for the Ford family. He eventually left Chicago for Ellison Bay, Wisconsin, in 1935, and founded "The Clearing" landscape school based on his Danish heritage of folk schools and land conservation.
Although Jensen was one of the earliest advocates of "parks for the people," he is still an unsung hero, especially beyond the Chicago area. The film, winner of multiple awards, gives voice to his pioneering conservationist spirit, his revolutionary use of native plants, and his creation of naturalistic spaces specifically for underserved communities. His legacy includes more than 600 park designs, including Chicago's Humboldt, Douglas, and Columbus Parks, as well as the Garfield Park Conservatory, which has recently been restored.
After the screening, a panel explored Jensen's work and its significance to today's urban environmental issues. Moderator Darrel Morrison, FASLA, Professor and Dean Emeritus of the School of Environmental Design at the University of Georgia, shared his personal remembrances of Jensen. The recipient of the 2006 Landscape Designer Award of the American Horticultural Society, Morrison has taught at The Clearing, Jensen's school in Door County, Wisconsin, and has been strongly influenced by Jensen in his own design work. Currently living in NYC, Morrison continues to teach, lecture and practice ecologically based landscape design and management.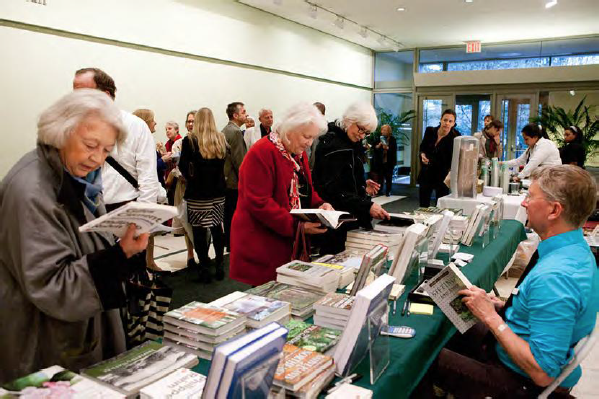 Carey Lundin is an award-winning television and film producer and director of Jens Jensen The Living Green. She is known for her ability to produce comedic and dramatic works, from television shows to political spots. Her work has been reviewed in Grist, The Chicago Tribune, The New York Times, and Minding Nature Journal. Inspired by the design and philosophy of Jens Jensen, and the impact of her film, Lundin is working with the Student Conservation Association and local groups to support Jardincito, a new nature park for children in Little Village, Chicago.
Bob Grese, MSLA, is Professor of Landscape Architecture in the School of Natural Resources and Environment at the University of Michigan and Director of the University's Matthaei Botanical Gardens and Nichols Arboretum. He is the author of Jens Jensen: Maker of Natural Parks and Gardens (1992), and has written widely on the prairie style of landscape gardening. Grese shared his principles of ecologically-based design, respecting the cultural and natural history of a region. He also led the NYBG master class, "Urban Wilds: Restoring Nature in Cities," on April 23, which focused on Jensen's early adaptation of native species in urban landscapes.
Jensen Wheeler Wolfe, great-granddaughter of Jensen, narrated the film. She is a freelance writer and television producer in New York City whose participation in the film, and on the panel, reflects the personal and professional connections Jensen forged during his lengthy career. Jens Jensen The Living Green was presented by the NYBG Humanities Institute, LuEsther T. Mertz Library.
Support for the Humanities Institute is provided by The Andrew W. Mellon Foundation.
Event Cosponsor: Library of American Landscape History.