Forest Restoration: Managing for the Future
Posted in Horticulture on June 4 2015, by Jessica Schuler
Jessica Arcate-Schuler is NYBG's Director of the Thain Family Forest.
---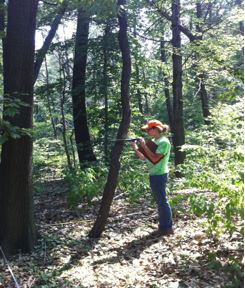 Ecological restoration, or "the process of assisting in the recovery of an ecosystem that has been degraded, damaged, or destroyed" (SER, 2004), is what the Forest staff, interns, and volunteers do in the Thain Family Forest every day to reduce invasive plants and increase native plant regeneration in managed areas through planting.
We start with an inventory that samples nearly 250 plots that are 10 meters by 10 meters squared. The sampling involves measuring all trees and shrubs, living or dead, with one centimeter or greater diameter at breast height (DBH) and collecting percent cover information for all herbaceous plants, woody plant seedlings and saplings, and non-living components such as leaf litter, coarse woody debris, and bare soil. This inventory is repeated every five years and provides a picture of forest change overtime that allows us to prioritize management and guide the restoration process: inventory, establish priorities, manage invasive species, restore native species, and repeat. The Forest staff last carried out an inventory in 2011 and will be repeating this process in the summer of 2016.

Since 2008, ecological restoration has been the main focus of the Forest staff, interns, and volunteers—a team that has spent a total of 18,600 hours managing invasive species and planting native plants. Based on inventory data, the priority species for management have been Amur corktree (Phellodendron amurense), Amur honeysuckle (Lonicera maackii), Japanese angelica tree (Aralia elata), Japanese honeysuckle (Lonicera japonica), English ivy (Hedera helix), Japanese and hybrid knotweed (Reynoutria japonica and R. × bohemica), lesser celandine (Ficaria verna), and garlic mustard (Alliaria petiolata).
In areas where these species are managed, a restoration planting is planned using trees, shrubs, and herbs that are suitable to that particular location. The inventory data is also used to help determine what should be planted where when planning restoration projects. Forest staff, interns, and volunteers have planted a total of nearly 22,000 restoration plants (8,700 trees, 1,500 shrubs, and 11,500 herbs). Many of these plants are grown in the Garden's Woody Plant Nursery from seed collected in the Forest. The staff scout or observe the phenology of plants in the Forest to determine when their seeds are ripe and then collect. Much of the collection of herbs and shrubs is done by hand. However, seed tarps are used underneath trees to collect seeds.
This slideshow requires JavaScript.
The seeds are then sown into flats if they are herbs and into seed beds if they are woody plants. To simplify production, plants are grown to mimic the forest floor, grown in seed beds with leaf litter and stratified with the seasons. Some seeds germinate quickly and are ready for planting within the same growing season, or next growing season as is the case with red oak (Quercus rubra). Others take several growing seasons before they are ready to be planted.
The ultimate goal of the forest restoration work is to improve forest health through active management that is informed by research. Through the ongoing stewardship, the future of the Forest has shifted for the better by decreasing invasive plant cover and restoring the managed areas with native plant species. To learn more about the Forest, visit our site.
References:
Society for Ecological Restoration International Science & Policy Working Group, 2004. The SER International Primer on Ecological Restoration. www.ser.org & Tucson: Society for Ecological Restoration International. 15pp.