Posted in Wildlife on March 30 2016, by Patricia Gonzalez
Patricia Gonzalez is an NYBG Visitor Services Attendant and avid wildlife photographer.
---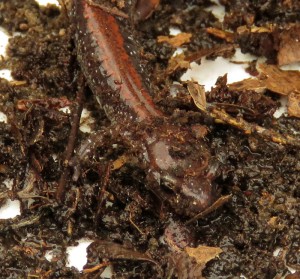 Since 2010, I've had the pleasure of getting to know some of our citizen scientist volunteers. From time to time, I get to join them during their phenology walks in the Thain Family Forest. While they conduct their tree studies, I keep an eye out for owls, hawks, raccoons, and other wildlife that call the forest their home. On a recent phenology adventure, I got to photograph one of the Garden's more elusive inhabitants: the Eastern red-backed salamander. Thanks to our intrepid Forest Manager, Jessica Schuler, I enjoyed a wonderful close-up encounter.