From the Garden of Eden to the Megalopolis: Mexico City Before and After Kahlo
Posted in From the Library, Humanities Institute on November 10 2015, by Vanessa Sellers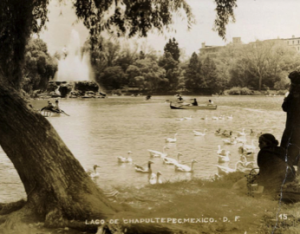 On June 26, 2015, The Humanities Institute conducted its fourth seasonal interdisciplinary colloquium, in the Readers Room-Auditorium of the LuEsther T. Mertz Library. With these more informal round table conversations the Humanities Institute has been able to start the process of reconnecting the various disciplines within the arts and sciences that form part of the environmental humanities: the complex relationship between nature, culture, cities, and society.
This Summer Colloquium's topic, From the Garden of Eden to the Megalopolis: Mexico City Before and After Kahlo, was inspired by the Garden-wide Frida Kahlo exhibits and focused on the architectural and ecological historical development of Mexico City. The capacity crowd included a diverse mix of university faculty members and graduate fellows, art and architectural historians, as well as architects and urban planners, botanical and horticultural experts.

The audience was welcomed by Vanessa Bezemer Sellers, Coordinator of the Humanities Institute, who introduced two Latin-American specialists as main speakers: Vera Candiani from Princeton University and Kathryn O'Rourke of Trinity University in San Antonio, Texas. Dr. Candiani teaches Latin American history and landscape literacy and pedagogy at Princeton and is the author of Dreaming of Dry Land: Environmental Transformation in Colonial Mexico City (2014). She led a spirited discussion of the social, economic, environmental, and technological factors that intersect with the history of Mexico City.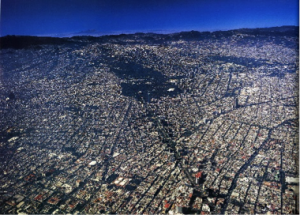 Candiani's passionate presentation centered on ecological events that pre-dated the existence of Frida Kahlo's own garden. She focused on the repeatedly disastrous decision making processes that were especially detrimental to a city, which, surrounded by lakes, has a natural propensity to flood. Connecting multiple fields of inquiry—from the history of science and technology, to environmental and social history—Candiani explained how the elite classes in Mexico City embarked on the largest drainage project in early American history, the Desagüe de Huehuetoca. An immense construction initiative of dams, canals, tunnels, and reservoirs utterly transformed the built and unbuilt environment. Candiani's presentation on this evolution of Mexico City's complex relationship with water, land and ecology highlighted the unsustainability of these "drain and pump" programs that eventually transformed the region from a water-centric "Garden of Eden" to a semi-arid megalopolis.
Dr. Kathryn O'Rourke then focused the on the twentieth-century gardens and landscape architecture of Mexico City, within the rubric of new city-wide urban planning strategies. Dr. O'Rourke, an architectural historian and author of the forthcoming book Building History: Modern Architecture in Mexico City, teaches Latin American art and modern architecture in the Art History and Urban Studies programs at Trinity University. A noted Kahlo expert, her essay, "Gardens and Landscapes of Frida Kahlo's Mexico City," appeared in the NYBG exhibition's catalog Frida Kahlo's Garden (2015). Dr. O'Rourke included photos and illustrations of Kahlo's garden, as well as those of large urban parks, that highlighted the changing environmental and ecological systems in Mexico City.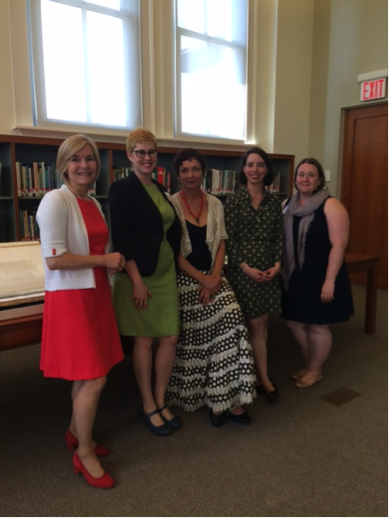 Both presentations confirmed that Mexico City's vast, highly populated metropolitan area was and is heavily dependent upon engineered solutions to water management and air pollution—solutions that are often more harmful than beneficial. For centuries the city has undergone metamorphoses. As Candiani and O'Rourke, confirmed: "When Frida Kahlo painted the pictures in this exhibit, and sat in her garden of the Blue House, the City of Mexico all around her was no Garden of Eden. It had not been that for a very long time, even before the arrival of Europeans and at least since one of Hernan Cortés' men described what he saw on the eve of the conquest, in 1519."
An informative discussion with the audience followed the presentations, with particular emphasis on water management best practices. The round-table was followed by two of the Garden's own staff members—Reference Librarian and Exhibitions Coordinator Mia D'Avanza and Curator of Interpretive Content for Public Engagement Joanna Groarke—hosting a rare book-viewing of notable works from the Mertz Library collections related to Mexico and tour of the Kahlo Exhibit in the Art Gallery. Refreshments and Mexican delicacies followed the session.
The Humanities Institute will host its next event in Spring 2016. Please visit nybg.org/humanities for more information.
Funding for The Humanities Institute is provided by The Andrew W. Mellon Foundation.