Books for a Greener World this Earth Day
Posted in From the Library, Learning Experiences, Shop/Book Reviews on April 21 2016, by Samantha D'Acunto
In celebration of Earth Day, the LuEsther T. Mertz Library would like to acknowledge the march toward greener living. Two recent publications, held by the Mertz Library, highlight the collective and collaborative effort towards a greener world.
---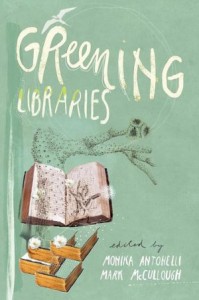 Greening Libraries edited by
Monika Antonelli & Mark McCullough
Greening Libraries is a compilation of essays and case studies surveying the different ways libraries are environmentally sustainable through design, outreach, and programming. Libraries in many ways have always been sustainable, but now libraries are trying to work alongside the community for a bigger and greener impact and Greening Libraries provides a peek into what libraries around the country are implementing to inspire change around them. Whether libraries are renovating their branches to comply with LEED (Leadership in Energy and Environmental Design) requirements, providing educational programming, or building partnerships with local organizations that work toward greening their city, these essays highlight importance of the library being at the forefront of the green movement.
---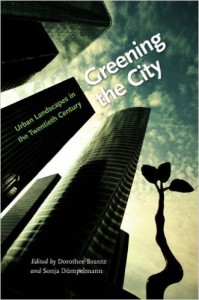 Greening the City: Urban Landscapes in the Twentieth Century edited by Dorothee Brantz & Sonja Dümpelmann
Greening the City also a selection of essays. Here the focus is on the issues of architecture, community, and politics that surround urban greening. The book takes an interesting point of view towards nature in relation to cultural context by covering the conversations that are happening globally on environmental issues. With thoughts on the historical, scientific, and design conversations happening around urban nature, these essays ask interesting questions such as; does the distinction between rural and urban living still exist? If so, should it? This book will reshape the way you view city structures and how we live in them.
To learn more about urban greening, you can visit the Mertz Library. These books circulate to NYBG members and volunteers! Additionally, the Plant Information Office has several online guides related to urban greening and gardening that are available for viewing, worldwide.