Helen Dillon's Dublin Garden
Posted in People, Shop/Book Reviews on July 14 2016, by Joyce Newman
Joyce H. Newman is an environmental journalist and teacher. She holds a Certificate in Horticulture from The New York Botanical Garden.
---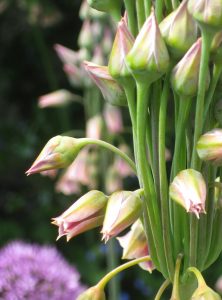 Helen Dillon, Distinguished Counselor to the NYBG Board of Trustees, has created an exquisite garden in the suburbs of Dublin, and she is considered one of Ireland's greatest gardeners, as well as a world-famous teacher and garden writer.
In her book, Down to Earth with Helen Dillon (Timber Press, $29.95), available at NYBG Shop, Dillon describes the evolution of her garden, first started in 1972 with her husband Val. Surrounded by stone walls on less than an acre, the property, including a house built in the 1830s, already had roses, apple trees, a wobbly greenhouse, hen houses, a large bed of bearded iris, a vegetable patch, and a rockery pile of stones in the middle of the lawn. But all of this was to change.
The main garden is at the back of the house facing south where Dillon has organized plants by their preferred habitat. The biggest change was replacing the lawn in the main garden with a lovely canal set in Irish limestone. Several small gardens are tucked behind the main garden with gravel pathways and a charming sitting area that features lovely bird cages. There's also a Victorian style greenhouse built in 1976.

This slideshow requires JavaScript.
On a recent visit to the garden, I interviewed Dillon about her goals and favorite plants. (The interview has been edited for length.)
Q. What would you say is unique about your garden?
A. The garden is the result of 44 years' struggle between thinking with the reticence of a garden designer about plants, versus the never-ending joy of buying new plants.
Q. Do you have some favorite plantings for summer and fall?
A. I like to sow a batch of tall cosmos in late May so as to have fresh plants for early autumn. The tallest Dierama, or angel's fishing rods, are quite wonderful in August. I like two ordinary excellent plants—Aster × frikartii  'Mönch' and Helianthus 'Lemon Queen'. Roses are fed again after flowering in July which prompts a great show in early autumn.
Q. What would you like visitors to take away after seeing your garden?
A. Even if they don't know the name of a single plant I'd like them to enjoy the peace from the colors of the garden.
Q. How was the water canal designed and constructed?
A. It was inspired by a holiday near the Alhambra in Spain and built by an excellent local builder. The round pool was built when we first arrived—it was so difficult to make it level that eventually we surrounded it with a circle of wet cement and got a long plank and pulled it over the whole thing.
Q. The yellow birds and their cages are pretty amazing. Who planned them?
A. Tim Sharkey, who has been coming here for two hours every Friday since 1979 (and who has birds at home). They are very happy and are breeding like mad!
Q. For the current purple borders with the allium and hesperis—how long will they bloom and what replaces them?
A. In late June, we take out the hesperis and put it on the compost heap (and sow another lot at end July for next year) and plant late summer blooming dahlias, cannas, brugmansias, and other tender plants in the spaces.
---
The Dillon Garden will be closed permanently later this year because they have decided to sell their property. They plan to move to a home with a smaller garden requiring less maintenance as they are both aging—a topic Helen writes about eloquently.
"For later life," she advises, "you should plan your garden so that gardening is of the most tranquil kind, with masses of time for sitting and thinking how lovely everything is, without being harassed by urgent gardening chores."
For the rest of the summer and just until the end of September, the Dillon Garden will be open to visitors daily from 2 to 6 p.m.