A New Class of Grass
Posted in Horticulture, Kiku on October 21 2016, by Kristine Paulus
Kristine Paulus is NYBG's Plant Records Manager. She is responsible for the curation of The Lionel Goldfrank III Computerized Catalog of the Living Collections. She manages nomenclature standards and the plant labels for all exhibitions, gardens, and collections, while coordinating with staff, scientists, students, and the public on all garden-related plant information.
---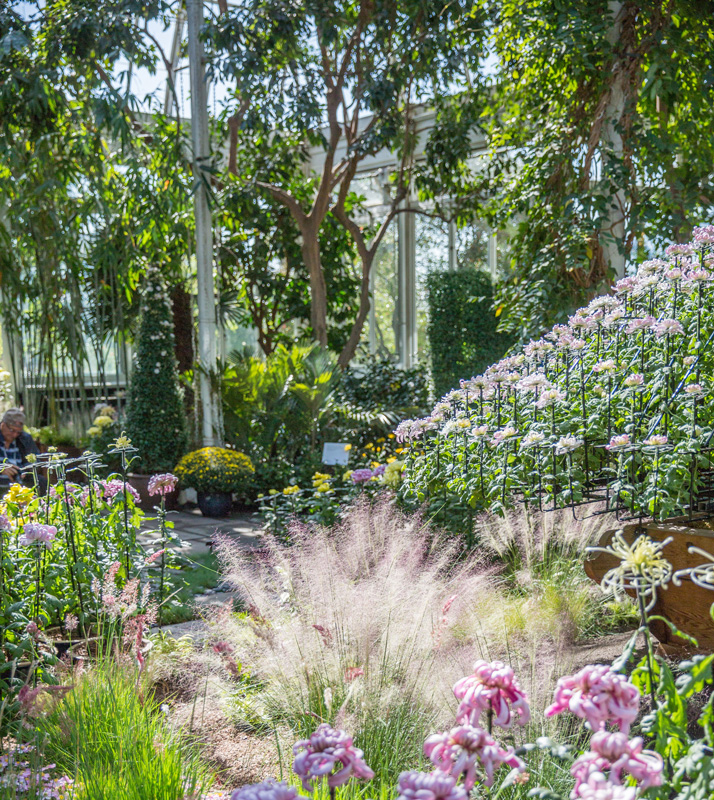 If the idea of grass makes you think of dreaded after school yard chores or monotonous sports fields, consider a visit to Kiku: The Art of the Japanese Garden to amend this assessment.  Attempting to steal the spotlight from the chrysanthemums are several decorative members of the Poaceae family, better known to most of us as grasses.
Several plantings of Muhlenbergia capillaris, a highly ornamental native grass commonly called hairawn muhly, create a spectacular floral display for fall throughout the exhibition. Clouds of airy, purple-pink cotton candy-like flowers float above long slender foliage. These hazy panicles glow in the sunlight, converting garden beds into dreamscapes. Hardy and heat- and drought-tolerant, hairawn muhly is as low maintenance as it is attractive.  This colorful plant is also a highlight in the Home Gardening Center's newly redesigned Grass and Bamboo Garden.
Another winsome grass from the same palette, Melinis nerviglumis (also known as ruby grass), can be seen in Kiku this year. Perfectly complementing hairawn muhly, ruby grass puts out rich roseate fall blooms that contrast nicely against bright green foliage. The dense panicles of flowers are covered in fine hairs, giving them a shiny, silky appearance that is pleasing to touch and to look at. Native to South Africa, ruby grass is not hardy to our zone but can be grown here as an annual. Under the right conditions, however, it will self-seed and return the following season.
Grasses are a great way to add texture and movement to a garden. Nassella tenuissima, or Mexican feather grass, does just this in Kiku, the Rock Garden, Perennial Garden, and Everett Children's Adventure Garden. Fine, silvery-green leaves grow in fountain-like clumps that sway in the slightest current. This is one of the wispiest plants you can find, but don't let its delicate appearance fool you—it's a tough one.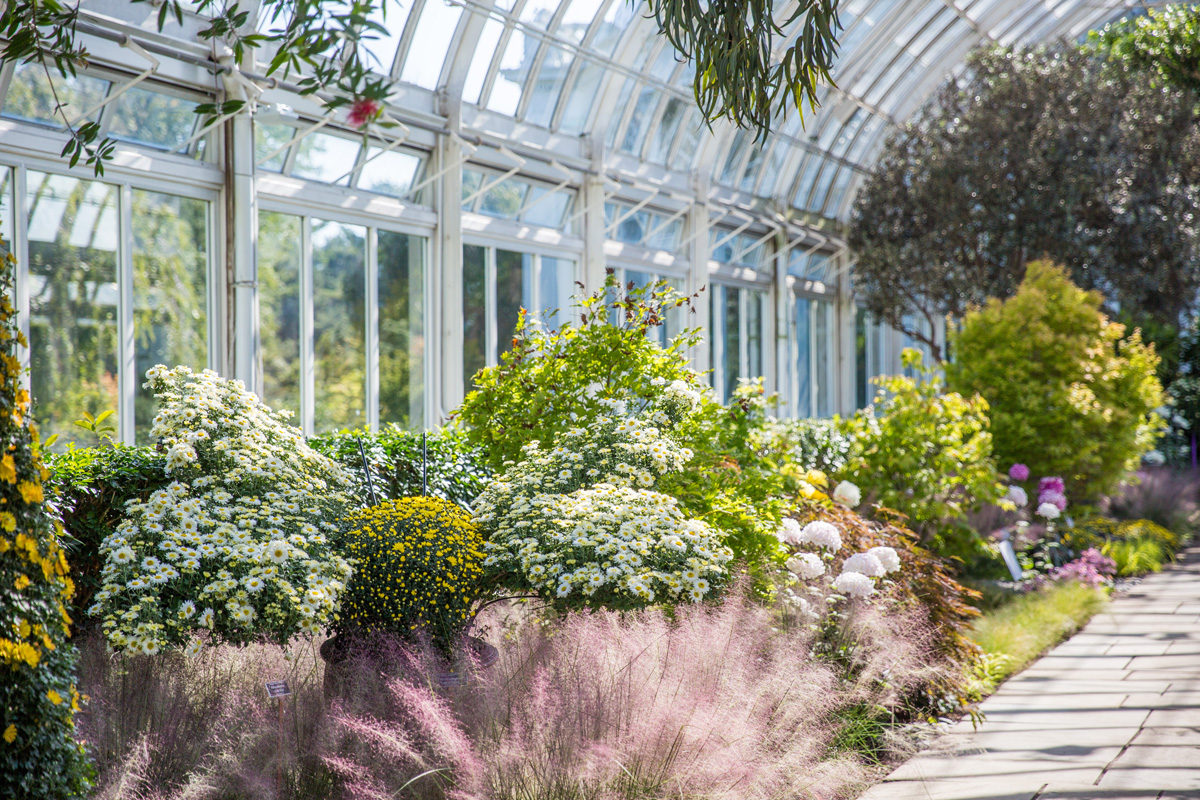 'All Gold' is an intensely colored and compact cultivar of Hakonechloa macra (also called golden Hakone grass or Japanese forest grass). Another fantastic fall grass, it arching leaves emerge electric yellow, soften to chartreuse, then take on burgundy accents as the days shorten with the changing seasons. It can be seen and heard the Azalea Garden, for Hakone grass also offers the auditory appeal of psithurism, the sound of rustling leaves (it also provides an opportunity to use this word, if not to pronounce it correctly!).
These and other grasses, along with numerous chrysanthemums and other plants, are on view in the current exhibition, Kiku: The Art of the Japanese Garden through October 30.  Several of them can also be found growing in our outdoor gardens such as the Azalea Garden, Perennial Garden, Home Gardening Center, and Rock Garden and a large variety of other grass species are presently thriving in the Native Plant Garden.