The Wicked Plants Coloring Book
Posted in From the Library on October 3 2016, by Esther Jackson
Esther Jackson is the Public Services Librarian at NYBG's LuEsther T. Mertz Library where she manages Reference and Circulation services and oversees the Plant Information Office. She spends much of her time assisting researchers, providing instruction related to library resources, and collaborating with NYBG staff on various projects related to Garden initiatives and events.
---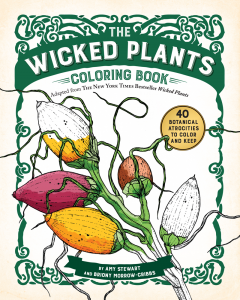 Amy Stewart delighted readers with her 2009 book Wicked Plants from Algonquin Books. With a scope that included poisonous plants, plants that cause physical injuries, invasive plants, and addictive plants, Stewart engaged and alarmed her audience with cautionary tales about, and cultural histories of, some of the plant kingdom's more dangerous and infamous members. Now, in 2016, The Wicked Plants Coloring Book renews the theme, highlighting some of the wickedest and most beautiful plants.
One of the things that made Wicked Plants so engaging was the care taken by Stewart to use Latin names (binomials) for the organisms she discussed. Stewart also situated each species within a larger context. Readers would learn the properties of a plant like Mandragora officinarum (mandrake) and then in turn learn about its relatives. In the case of M. officinarum, "the notorious nightshade family includes peppers, tomatoes, and potatoes, along with deadly nightshade and belladonna."  This context was helpful to readers who did not have botanical or horticultural backgrounds and made phylogeny, or the study of relationships, accessible to the average reader.

In addition, Stewart is an undoubtedly skilled writer, and those who pick up Wicked Plants will be loath to put the book down until the last page is read and "digested."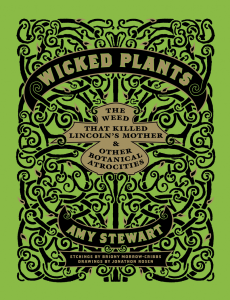 When I learned that Stewart and Algonquin Books were releasing The Wicked Plants Coloring Book, I was delighted in an admittedly macabre way. The illustrations and engravings (by Jonathon Rosen and Briony Morrow-Cribbes, respectively) that accompanied the text in Wicked Plants were beautiful, and I was eager to see what the coloring book held in store. I was not disappointed. Abbreviated text from the original Wicked Plants accompanies illustrations from Morrow-Cribbs. The images have been adapted (seemingly from the original engravings) to offer coloring enthusiasts plenty of space and variety to color wicked plants to their hearts' content.  Is coloring still therapeutic if what you're coloring is a plant that might kill you in person? I don't see why not.
Wicked Plants and The Wicked Plants Coloring Book are a great duo. If you, like me, read Wicked Plants near its 2009 release, now is a great time to re-read this classic—or to review the highlights with the coloring book. 'Tis the season for spooky, and Wicked Plants is here to answer the call.