At Stillman's Wethersfield Garden, the Legacy of an NYBG Trustee
Posted in History on October 21 2016, by Joyce Newman
Joyce H. Newman is an environmental journalist and teacher. She holds a Certificate in Horticulture from The New York Botanical Garden.
---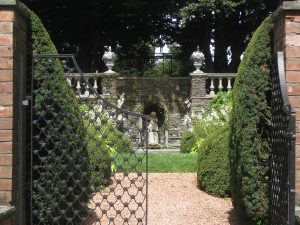 Considered one of the best examples of a classic Italian Renaissance garden in America, Wethersfield Garden was originally just 1,200 acres of sloping hills, woods, and pastureland in Amenia, New York. The late Chauncey Devereux Stillman (1907–1989), a long-time supporter of NYBG, visited the area on a fox hunt in 1937 and promptly purchased the land.
Educated at Harvard (Class of 1929), Stillman was heir to a family fortune in banking. He became an accomplished equestrian and garden enthusiast, eventually joining the NYBG Board of Trustees in 1946 after a stint in the Navy during World War II as an air combat intelligence officer. According to NYBG Research Librarian Samantha D'Acunto, records show that he served on the board in various roles for more than two decades, until June 1967.
Although he had an advanced architecture degree from Columbia, Stillman wasn't a practicing architect. One year after he joined the NYBG board, he went to work as a civilian for the federal government's newly created Defense Department under Secretary James Forrestal and soon was moved to work at the Central Intelligence Agency, where he stayed until 1951—doing exactly what, we don't know.

In the Harvard 25th Anniversary Report (from 1954), Stillman wrote that he was spending a lot of time with his children at Wethersfield. There he became a sort of Renaissance man—a connoisseur of paintings, sculpture, antiques, yachting, wildlife, horticulture, religion, horses, and especially 19th-century hackney carriages. After he bought the Wethersfield property, which he called a "run-down farm," one of the first things he built was the stable and carriage house. Visitors today can see his dazzling antique carriage collection, tack room, and dozens of prize ribbons.
[Not a valid template]
A Wilderness Garden
Although it's just two hours north of New York City, a visitor to Wethersfield feels totally transported to a different time and place. There are two main gardens to explore. The seven-acre, wooded "Wilderness Garden" contains a network of carriage drives and trails featuring amazing deciduous trees and evergreen flowering shrubs, including mountain laurels and rhododendrons. A wonderful array of ferns waits to be discovered along the trails: Christmas fern (Polystichum acrostichoides), evergreen wood fern (Aspidium marginal), toothed wood fern (Aspidium spinulosum), hay scented fern (Dicksonia punctilobula), maidenhair (Adiatum pedatum), and lady fern (Asplenium felix-foemina).
Limestone and marble statuary punctuates many of the pathways with motifs taken from Greek and Roman mythology. The statues were created during the late 1960s and '70s by English sculptor Peter Watts (1916–2002) and Pittsburgh sculptor Jozef Stachura, born in Poland (1923–2001).
[Not a valid template]
A Classic Italian Renaissance Garden
A large Palladian arch flanked by marble pillars marks the perimeter of Wethersfield's second main garden: three formally designed acres of gorgeous greenery, with views from every angle. The arch is a focal point when viewed at a distance from the red-brick house, which was built by Stillman in 1938 in Georgian Revival style. The house was carefully situated on the east-west axis of the garden and from its windows there also are "framed views" of a lovely inner garden, terraces, and lawns—all planned and intimately integrated.
The inner garden near the house was landscaped in 1940–41 by Bryan J. Lynch and includes terraces, hedges, and flower borders that can be viewed from the house. A giant white pine stands in the center of a lower terrace, and at its base are pots filled with Fuchsia 'Black Prince.' A small goldfish pool filled with lily pads and dozens of tiny green frogs is a charming resting spot.
In 1947, Stillman hired Evelyn N. Poehler, a Sharon, Connecticut-based landscape architect, to design a swimming pool. Poehler wound up planning, designing, and maintaining both the formal garden and wilderness garden, working closely with Stillman to develop their features over a 25-year period.
[Not a valid template]
Garden Highlights
In a 1984 New York Times article about her work, Poehler was asked how she planned the classical Italian garden and replied that it was like building an extension of the house. Her design moves the visitor along many different green corridors with walls made of massive clipped hedges, corners with tall trees, and lawn steps that reveal smaller enclosed "rooms" with arches, sculpture, and fountains.
She also created two dramatic, elevated signature features: a sweeping allée of arborvitae (recently replanted) and a stunning stone walk leading to a circular temple of six columns called the Belvedere, providing a panoramic view of the Taconic hills.
There were four different kinds of stone in her design—granite, bluestone, shale, and "red dog," which is a pink-colored slag that is a by-product of coal mining. Stone balustrades, urns, obelisks, and various animal sculptures introduce passages to different rooms throughout the garden and help to unify it. The eastern-most entrance is guarded by two crouching gray lions and is paved by Belgian blocks recovered from the streets of New York City.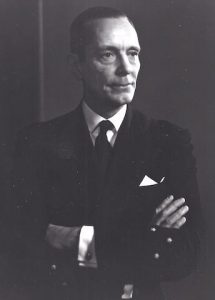 Along one path is a fabulous cutting garden filled with annual and perennial beds, including zinnias, phlox, and dahlias. A small knot garden on an upper terrace contains four geometric flower beds filled with wax begonias in a colorful design. At one end is a small brick "Grasshopper House" so named for a whimsical grasshopper weather vane. Inside are murals of Wethersfield scenes painted by American artist Hight Moore.
In a definitive study of 17th-century Italian villas and their gardens, one of America's greatest writers, Edith Wharton, notes that these gardens blended elaborate use of evergreen hedges and green walls with water and stone features, as well as flowers, so that the whole garden composition, like "garden-magic," transcends the seasons.
And so it is with Wethersfield. Though it was created in the 20th century in America, it borrows from the best Italian classical traditions and so achieves a timeless beauty.
Photograph of Mr. Stillman courtesy the Homeland Foundation, Inc.