Take a Dry Run at Drought Gardening
Posted in From the Library, Shop/Book Reviews on December 6 2016, by Esther Jackson
Esther Jackson is the Public Services Librarian at NYBG's LuEsther T. Mertz Library where she manages Reference and Circulation services and oversees the Plant Information Office. She spends much of her time assisting researchers, providing instruction related to library resources, and collaborating with NYBG staff on various projects related to Garden initiatives and events.
---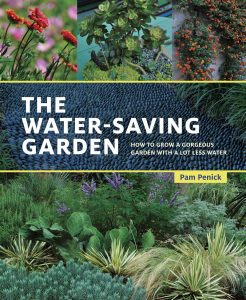 Gardening with less water and drought-resistant plants is currently a relatively hot (but not dry) topic in the world of horticulture. Two new books, The Bold Dry Garden by Johanna Silver (with Timber Press) and The Water-Saving Garden by Pam Penick (with Ten Speed Press) address this topic in very different ways.
The Water-Saving Garden is an all-around excellent book for those who already have existing gardens or who are in the process of designing and/or installing new gardens and are looking for water-saving landscape design ideas. Not so much a how-to guide as it is inspirational, this book offers practical advice and projects for garden designers and home-owners alike. The projects suggested are very modular, and even those who don't have a lot of space to work with or redesign may find inspiration The truly inspired will find enough projects to redesign an entire yard or property.
In many cases, especially when hardscaping is concerned, supplemental reading would be needed to complete the suggested projects. Ultimately, Water-Saving is a very nice introduction to some possible water-saving projects for the gardener.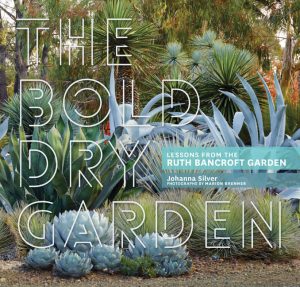 The Bold Dry Garden is part biography, part homage, part garden history, and part plant encyclopedia.  The book centers around the Ruth Bancroft Garden, a California institution established in the 1970s.  It's obvious that Silver, (the book's author), has a deep respect for Bancroft and a great affection for the garden.  Bold Dry begins with a biography of Bancroft, followed by a history of the Ruth Bancroft Garden, and then a look at various bold, dry-loving plants in the garden.  Throughout the entire book, Bancroft's sensibility is clearly felt.  This 107-year-old gardener first planted her garden in the 1970s and continues to "[visit] with the wildflowers, roses, cacti, succulents, and other dry-adapted plants that thrive in the garden."  For plant nerds, the plant profiles include beautiful photos of species not seen out of doors in the Northeast.  For garden and landscape designers, Bold Dry offers an intimate look into a unique and historic landscape.
Part coffee table book and part homage, The Bold Dry Garden is a beautiful book, although it offers very little in terms of practical inspiration for average outdoor gardeners in non-Mediterranean temperate climates.
Together or separate, The Water-Saving Garden and The Bold Dry Garden inspire ecological thoughtfulness in gardeners and home owners alike.