Harvest & Rain Gardens
Posted in From the Library, Shop/Book Reviews on February 6 2017, by Esther Jackson
Esther Jackson is the Public Services Librarian at NYBG's LuEsther T. Mertz Library where she manages Reference and Circulation services and oversees the Plant Information Office. She spends much of her time assisting researchers, providing instruction related to library resources, and collaborating with NYBG staff on various projects related to Garden initiatives and events.
---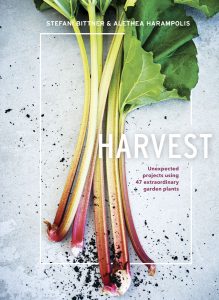 Harvest: Unexpected projects using 47 extraordinary garden plants is a delightful new book from Ten Speed Press. This is the fourth book from author pair Stefani Bittner and Alethea Harampolis whose other titles include The Beautiful Edible Garden, Branches & Blooms, and The Flower Recipe Book. Harvest contains projects related to cooking, craft beverages, beauty care, decorations for the home, and flower arranging. Beautiful photographs by David Fenton accompany the projects. With plants and projects divided into three growing seasons, early (late winter to spring), mid (summer to early fall), and late (late fall to early winter), the book is an eclectic mix of inspiring ideas and ethereal photographs.
As the authors are based in San Francisco, some of the plants utilized in Harvest's 47 projects are not typically grown in the Northeast.  However, even with that caveat, the projects in Harvest are accessible and inspirational. While there are a few more time-consuming projects, there are also very simple how-to activities to preserve the flavors of garden crops. For example, "Scented Geranium Sugar" and "Edible Flower-Infused Vinegar." In general, Harvest seems geared towards giving readers projects that they can actually accomplish at home with minimal preparation or equipment. In a world where home craft and cookbooks can sometimes be very complicated, Harvest offers an elegant yet simple solution.
Harvest is an inspiring and beautiful book, perfect for the gardener or urban homesteader looking for creative and easy ways to utilize plants at home and in the kitchen.
---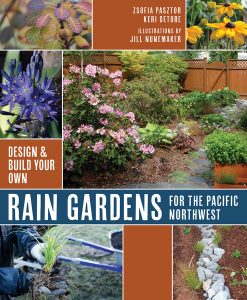 Design & Build Your Own Rain Gardens for the Pacific Northwest offers practical how-to advice for home gardeners and landscape designers seeking to create rain gardens in their landscapes. Authors Zsofia Pasztor and Keri DeTore team up with illustrator Jill Nunemaker for this new book from Skipstone.
With the exception of one chapter focused specifically on the climate in the Pacific Northwest and a plant palette geared towards the Northwest, Rain Gardens is surprisingly universally accessible to gardeners in the United States and beyond. Chapter titles include Hydrology, Water and Soil, Siting Your Rain Garden, Planning and Design, Time to Build, Maintenance and Troubleshooting, Smarter Gardening With Other LID Techniques, and Case Studies: Rain Garden Successes. Each chapter is accompanied by detailed photographs illustrating the concepts discussed. Some other books about rain gardening focus more on garden inspiration, offering little by way of practical how-to. Rain Gardens, on the other hand, is the perfect book for the designer who is ready to roll up their sleeves and get started on creating a rain garden.
Finishing with a section titled Rain Garden Planting Design Templates, this book empowers readers to design and build rain gardens of their own. Paired with other books for "garden inspiration," Rain Gardens is a useful and powerful tool for homeowners and landscape designers.