Posted in Around the Garden on April 19 2017, by Tai Montanarella
Tai Montanarella is the Marian S. Heiskell Associate Director of School and Out-of-School Programs at The New York Botanical Garden.
---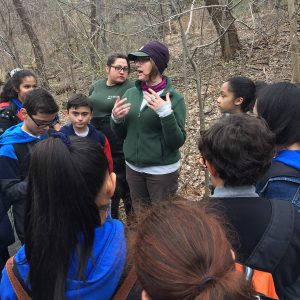 Alongside a naturalistic waterfall in the Thain Family Forest tourists were snapping family photographs, capturing scenes of the rushing Bronx River, its rocky gorge, and the leafing and flowering spring trees behind them. Yet only 20 feet away lay a tarp with hundreds of pieces of litter, from styrofoam bearing popular fast food logos to glass beer bottles. It was this scene which captivated the students of St. Brendan School in the Bronx.
"In order to find out how garbage gets into the Bronx River, we have to think about the ways water gets into the river," said forest gardener Erica Deluca. Students had some ideas to share. Thanks to the generosity of Con Edisom STEM Days Out, they have been stewards of the Bronx River for the past two years, observing seasonal changes and thinking about how water quality changes over time by collecting and analyzing macroinvertebrate leaf pack data, and by keeping abreast of current events about human activities and the river.