Garden-to-Bar Reading
Posted in From the Library on May 15 2017, by Esther Jackson
Esther Jackson is the Public Services Librarian at NYBG's LuEsther T. Mertz Library where she manages Reference and Circulation services and oversees the Plant Information Office. She spends much of her time assisting researchers, providing instruction related to library resources, and collaborating with NYBG staff on various projects related to Garden initiatives and events.
---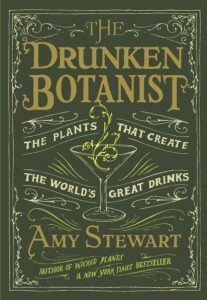 This week we dive into a few books detailing the rich history of botanical spirits, and the ways in which we've called on the garden to supply us with our favorite tipples.
The Drunken Botanist: The Plants That Create the World's Great Drinks by Amy Stewart is a treat from start to finish. Drunken Botanist follows Wicked Plants and Wicked Bugs, two excellent books about organisms that can be dangerous to humans. (Read my review of Wicked Plants here.) Stewart is a talented writer, a careful historian, an excellent amateur botanist, and a skilled bartender. Drunken Botanist follows the format of her earlier books, with Stewart selecting different plants and offering readers narratives about their nativity and the history of their usage by humans—specifically how and when they were used to make alcoholic drinks. Sake, scotch, rum, tequila, bourbon, and their plant parents are just a few of the drinks that are featured. Stewart writes, "It would be impossible to describe every plant that has ever flavored an alcoholic beverage. I am certain at this very moment, a craft distiller in Brooklyn is plucking a weed from a crack in the sidewalk and wondering if it would make a good flavoring for a new line of bitters." Before plucking sidewalk weeds, craft distiller and home bartenders alike would do well to look to Drunken Botanist for inspiration, "stirring" stories, and an infectious excitement about plants that is one of Stewart's enduring trademarks.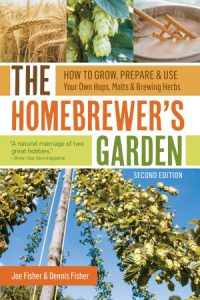 The Homebrewer's Garden: How to Grow, Prepare & Use Your Own Hops, Malts & Brewing Herbs is authored by brothers Joe Fisher and Dennis Fisher. This excellent book was used to research a guide for home gardeners interested in producing hops and other beer ingredients at home.  Chapter titles include "Homegrown Hops," "Brewing Herbs," "Homegrown Grains & Homemade Malts," and "Beer Recipes." Unsurprisingly, the content is much more detailed and expansive than anything home gardeners can find online. In particular, the Hop Directory (a listing of hop varieties and their properties) and the section on brewing herbs are especially useful.
Homebrewer's Garden is a great book for the home gardener who is interested in growing plants to make beer at home, for the home brewer who wants to learn more about the ingredients used to make beer, and for those who enjoy beer and have an academic interest in the topic.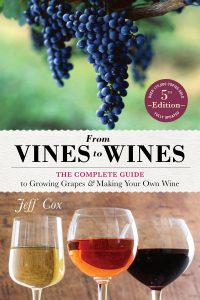 From Vines to Wines: The Complete Guide to Growing Grapes & Making Your Own Wine by Jeff Cox is in its fifth edition since the book was first published in 1985. Called "a bible for the home winemaker" by one reviewer, this 254-page book is packed with all of the information a home gardener or home winemaker needs to begin growing or working with grapes. The book is divided into three main parts: "Selecting the Vines," "Growing the Grapes," and "Making the Wine." While it's true that much of the advice (including suggested grape species or varieties) is most appropriate for American growers, aspects of every section including those related to grape selection have application further afield. The same can be said for sections related to grape growing and wine-making. Although United States practices and governmental restrictions are noted, the text would be useful for wine-makers in any region.
For readers who are interested in learning about viticulture but aren't planning to grow grapes or produce wine, From Vines to Wines contains a reasonable amount of information about the wine industry and wine regulations in the United States, which, if nothing else, make for interesting dinner conversation when enjoying a glass of wine. For example, did you know that the United States has Official American Viticultural Areas, or AVAs for short? By having an area designated an AVA, winemakers producing wine commercially within an area are able to market their wine as being from a specific region.
Although wine enthusiasts will likely enjoy From Vines to Wines, it is really best appreciated by those who are planning on growing grapes and/or producing wine as a small- or medium-scale operation. The technical information included in this work is detailed, thorough, and has been updated to reflect current viticultural practices.