The Garden as Art: On Paper & Film
Posted in From the Library on May 1 2017, by Esther Jackson
Esther Jackson is the Public Services Librarian at NYBG's LuEsther T. Mertz Library where she manages Reference and Circulation services and oversees the Plant Information Office. She spends much of her time assisting researchers, providing instruction related to library resources, and collaborating with NYBG staff on various projects related to Garden initiatives and events.
---
Botanical Art from the Golden Age of Scientific Discovery was one of my Top 10 Popular Science Books of 2016.  As I wrote in my earlier review, author Anna Laurent has curated an exquisite collection of historic botanical art. "More than an archive of illustrations and inquiry, this book documents an extraordinary convergence of disciplines that flourished in the late nineteenth and early twentieth centuries," she writes. "Europe was enjoying a golden age of scientific discovery; naturalists were exploring the globe and there was a clamoring for knowledge of the natural world."
The art in this book comes specifically from botanical wall charts. These charts were created as teaching tools during the 19th and 20th centuries. Produced by professors, biologists, illustrators, writers, and botanists, wall charts were used in classroom instruction to supplement lessons involving living or vouchered plants. These wall charts were first documented in Germany in the 1820s. In addition to featuring many beautiful German charts, the book includes examples of charts from various countries.

The text is organized by plant family. Twenty-three plant families are featured including Brassicaceae (the cabbage or mustard family), Rubiaceae (the coffee family), and Solanaceae (the potato, tomato, and nightshade family). A brief description of each plant family is followed by a wall chart featuring anatomical illustrations of select species. Laurent, a celebrated photographer, has an excellent eye for selecting attractive and engrossing botanical illustrations. Each illustration is accompanied by a caption including When Known, Title, Author, Language, Country, Series/Book, Plate, Publisher, and Year. Credits to contributing institutions (including the LuEsther T. Mertz Library of The New York Botanical Garden) are summarized at the end of the book.
This book is a treat for those who enjoy reading about botany, the history of science, or botanical illustrations. Happily for the botanically inclined, the bulk of the narrative accompanying the illustrations deals with the plants themselves as opposed to the methods by which the illustrations were created. Those more interested in the art history component of botanical art may wish to supplement this text with books about printing history.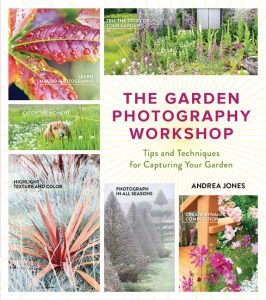 The Garden Photography Workshop: Tips and Techniques for Capturing Your Garden is a beautiful new book from Andrea Jones for Timber Press. Jones is a commercial garden photographer with a gift for conveying information to amateur photographers in written form. The narrow focus of her book on photographing gardens makes this book very useful for photographers who are specifically interested in this area. There are unique challenges associated with photographing landscapes and plants both, and Jones's clear and detailed prose is thorough but not overly weighty. With the knowledge that many amateur photographers are more likely to be armed with a cellphone than a DSLR camera, Jones shares tips and tricks for practitioners using a wide variety of photography equipment. Tips for photographing for Instagram and basic ways to utilize Photoshop are included alongside more "classic" information about image composition and color considerations. Garden portraits shot by Jones offer templates and inspiration for the aspiring garden photographer and eye-candy for garden lovers.
One thing that Jones doesn't really delve into is the question of how to photograph plants for identification—that is, how to focus on essential diagnostic features. In the library's Plant Information Office, many questions are received related to plant identification. "What's this plant?" is a common question! For those who are interested in learning more about how to photograph a plant for identification purposes, the Plant Information team has created this guide.
Thanks to Leslie Coleman for her wonderful feedback related to The Garden Photography Workshop! I drew heavily from her comments and expertise when reviewing this title.