Apartment Gardening & Salad Days
Posted in From the Library on July 29 2017, by Esther Jackson
Esther Jackson is the Public Services Librarian at NYBG's LuEsther T. Mertz Library where she manages Reference and Circulation services and oversees the Plant Information Office. She spends much of her time assisting researchers, providing instruction related to library resources, and collaborating with NYBG staff on various projects related to Garden initiatives and events.
---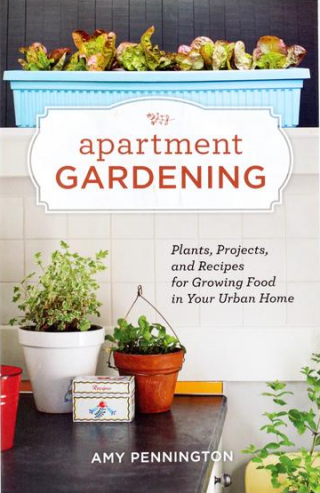 I recently discovered Amy Pennington and almost immediately fell in love with her simple, straightforward books written for city-dwellers trying to eat thriftily, sustainably, and seasonally. I reviewed both Urban Pantry and Fresh Pantry earlier this year and now have the pleasure of reviewing Apartment Gardening and Salad Days, both from Sasquatch Books, an independent press located in Seattle, WA.
Apartment Gardening is geared toward readers who really want to grow garden plants at home but have no yard and little space. While Pennington has written her guide for those who have a deck or porch (sadly, not the case for many!), she's quick to emphasize that if you have good sun *somewhere* in your urban dwelling, you can try your hand at growing vegetables, fruit, herbs, or even flowers. Not all vegetables can be successfully grown in containers, but there are a lot of vegetables that will do quite well with good sunlight, soil, and water. Roughly 80 pages of this economically sized book detail garden setup and care, with the rest of the book (181 pages total) focused on recipes, craft projects, and other simple garden tricks and tips for apartment dwellers and vegetable lovers. Apartment Gardening is a great book for new gardeners living in the urban jungle or for experienced gardeners who find themselves with limited garden space and the desire (or need!) to grow a "garden."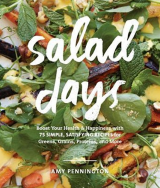 Salad Days: Boost Your Health and Happiness with 75 Simple, Satisfying Recipes for Greens, Grains, Proteins, and More is another nice book released earlier this year. Pennington shares simple but delicious recipes for the home cook. "Can a salad make you happy?" These salads created by Pennington are designed to do just that. Although you can't grow all of the ingredients in your apartment garden, the ingredients are mostly straight-forward. Sure, salmon and avocado have their day, but a beet salad recipe contains only 10 ingredients, and that includes a dressing recipe.
Overall, I just plain like Pennington's love of growing and eating vegetables, her commitment to flavor diversity, and her sense of economy. I look forward to re-reading these four books and seeing what she thinks up next.