The Living Forest
Posted in From the Library on October 12 2017, by Esther Jackson
Esther Jackson is the Public Services Librarian at NYBG's LuEsther T. Mertz Library where she manages Reference and Circulation services and oversees the Plant Information Office. She spends much of her time assisting researchers, providing instruction related to library resources, and collaborating with NYBG staff on various projects related to Garden initiatives and events.
---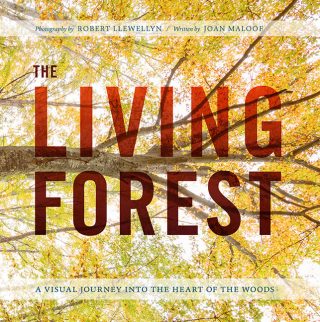 The Living Forest: A Visual Journey into the Heart of the Woods is a new book from Timber Press written by Joan Maloof with photography by Robert Llewellyn. Living Forest is another in the line of more ecology-minded books from this popular publisher of gardening and garden design books.
First and foremost, The Living Forest is a beautiful book. Llewellyn, as some keen readers might recall, is the photographic mind behind the extremely appealing series Seeing Trees, Seeing Flowers, and Seeing Seeds, which I reviewed for Plant Talk earlier this year. As is the case in the Seeing series, Llewellyn's photographs are detailed, brilliant, and immersive. With a mix of subjects including flora and fauna, shot both close-up and in landscape views, Llewellyn's work and Maloof's words evoke the forest on every page. My personal favorite photo is a landscape shot of beech trees (possibly Fagus grandifolia) in late autumn. Love for the woods knows no season, but, for me, autumn is the time that I like best. Llewellyn simply and eloquently captured one of my favorite forest scenes and all of the emotions such a scene inspires.

Living Forest, for all of its beauty, both in photography and words, remains "ecology-lite" and does not stand up as a robust scientific reference. My continued criticism of Llewellyn's work is that he does not include Latin names for plants. In this work there are no Latin names for any organisms. He also doesn't share the locations of his photographs, leading to a view of "the forest" that presumably spans many different woodland species from different parts of the world. Perhaps this information was left out of this work so as to not overwhelm the reader, but readers with more scientific knowledge will likely find these omissions frustrating.
More troubling is a lackadaisical passage about beetles that includes mention of the emerald ash borer (Agrilus planipennis) and has the takeaway that beetles are just a natural part of an ecosystem. Yes, beetles can be a part of a healthy forest ecosystem, but the emerald ash borer is an extremely destructive and invasive species in North America, and it's arguably irresponsible for Maloof to gloss over so important a detail. Perhaps Living Forest is meant to have worldwide appeal (including in Asia where the emerald ash borer hails from), but invasive species are not mentioned once in this work with any seriousness. Those who love the woods know that one of the largest threats to natural woodlands are invasive species; it's surprising that this topic receives no attention.
Enjoy The Living Forest for its beautiful photographs accompanied with text that borders on poetry. Get caught up in landscape photographs that are transportive and contemplative. For guides to the species you might find in the forest and for information about forest management, supplement your reading with other great books from the LuEsther T. Mertz Library of The New York Botanical Garden.