The Language of Plants
Posted in From the Library on December 28 2017, by Esther Jackson
Esther Jackson is the Public Services Librarian at NYBG's LuEsther T. Mertz Library where she manages Reference and Circulation services and oversees the Plant Information Office. She spends much of her time assisting researchers, providing instruction related to library resources, and collaborating with NYBG staff on various projects related to Garden initiatives and events.
---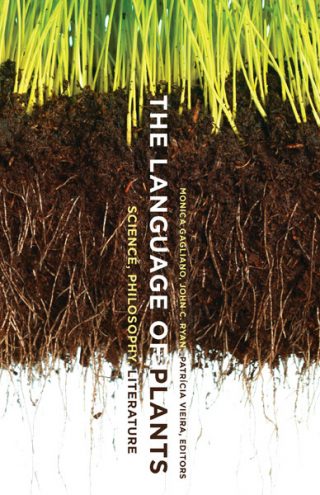 The Language of Plants: Science, Philosophy, Literature is a collection of essays edited by Monica Gaglioano, John C. Ryan, and Patricia Vieira published by the University of Minnesota Press.
On her website, Gaglioano writes, "This book commences a dialogue between philosophy, science, literature, and cinema dealing with plants. The aim of the edited collection is to develop a better understanding of plant life through critical awareness, conceptual rigor, and interdisciplinary thinking." Indeed, the essays in The Language of Plants run the gamut between more scientific essays about volatile organic compounds produced by plants as a self-defense mechanism, to more humanities- and theory-based essays on the language of flowers in art and literature.
As a whole, the collection is eclectic and thoughtful; readers of different backgrounds may be drawn to different essays, and the collection offers room for exploration between disciplines and paradigms both. For those interested in the topic of plant intelligence, The Language of Plants deserves a look.
For those based locally, the NYBG Humanities Institute (part of the LuEsther T. Mertz Library) will be hosting a symposium on Plant Intelligence on March 22, 2018, with speakers Peter Wohleben (author of The Hidden Life of Trees) and Stefano Mancuso (author of Plant Revolution). See the upcoming NYBG Adult Education Spring-Summer course catalog for more information.