The Factory in a Garden
Posted in From the Library on January 5 2018, by Esther Jackson
Esther Jackson is the Public Services Librarian at NYBG's LuEsther T. Mertz Library where she manages Reference and Circulation services and oversees the Plant Information Office. She spends much of her time assisting researchers, providing instruction related to library resources, and collaborating with NYBG staff on various projects related to Garden initiatives and events.
---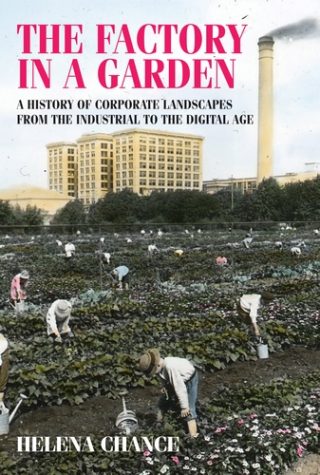 The Factory in a Garden: A History of Corporate Landscapes from the Industrial Age to the Digital Age by Helena Chance is a detailed history of gardens and greenspace in corporate culture, from real landscapes to suggested bucolic scenes used to seduce would-be employees and home consumers alike.
Chance's book treats gardens and landscapes as designed artifacts and explores the ideologies and values that shaped their design. Chance also assesses the depiction and mediation of these spaces in photographs, illustrations, film, and text.
The Factory in a Garden is a theory-heavy book that includes information about labor history, industrialization, and, of course, garden design in Great Britain and the United States. Chapter one addresses the origin of the factory garden movement, from the early Industrial Revolution to the period between WWI and WWII. Chapter two details links between corporate landscapes and social and health reform, including urban planning and public greenspaces during the late 19th and early 20th centuries.

In chapter three, Chance focuses on the symbolism of gardens and gardening ideas along with the motivations that corporations had for creating gardens and parks at factories. As the book goes on, Chance addresses recreational uses of corporate gardens and parks from the late 19th century through WWII; looks to factory gardens and parks designed in the 1920s and 1930s with special interest paid to space for sports and exercise; includes information about how the imagery of gardens near factories was used as a promotional tactic for companies; and dives into the critical theory surrounding factory gardens, (early 20th century through the 1950s), including an assessment about the benefits of these green spaces to workers and to owners. The book closes by detailing the evolution of the "factory garden" from the post-war period until the present day.
For those who study garden and labor history, The Factory in a Garden is an interesting book. By documenting the history of these spaces and theorizing about their benefits and the intentions of their creators, Chance has written a wonderful work that will be referenced by garden history and labor history scholars for years to come.