The Less is More Garden
Posted in From the Library on January 18 2018, by Esther Jackson
Esther Jackson is the Public Services Librarian at NYBG's LuEsther T. Mertz Library where she manages Reference and Circulation services and oversees the Plant Information Office. She spends much of her time assisting researchers, providing instruction related to library resources, and collaborating with NYBG staff on various projects related to Garden initiatives and events.
---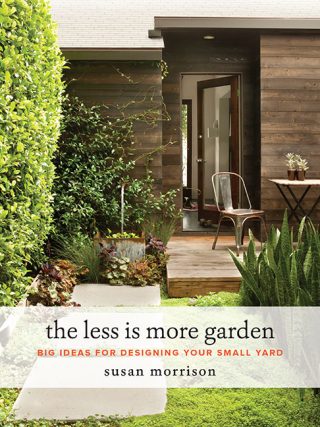 The Less is More Garden: Big Ideas for Designing Your Small Yard by Susan Morrison for Timber Press delivers what it promises—big ideas!
Very few of us have the perfect backyard or garden. In fact, most people who have outdoor spaces to garden are probably "tormented" to various extents by peculiarities of their yards. If part of the problem is related to space—too little of it, say, or an oddly-shaped plot—Morrison's designs might be just what you need to find a solution.
Morrison's designs are, as Steve Aitken notes in his foreword, enviable. They are tasteful, practical, and beautiful. How does she accomplish these spaces? Although site analysis is a crucial part of garden design, Morrison starts with three simple questions. What will you be doing in the garden? When will you be outside? Who will be with you? With user experience in mind, Morrison crafts spaces readers can easily imagine themselves entering.
For readers new to garden design, Morrison mostly offers inspiration. More experienced designers will be able to learn from Morrison's designs and gain practical ideas about how to use space—not just small or oddly-shaped areas but all shapes and sizes—to best effect in a garden.
In design, constraints such as limited space often inspire creative solutions and great ideas. Morrison's work is evidence of this premise, although I suspect she would shine in any setting.