Eat Neat & Budget Better
Posted in From the Library on April 10 2018, by Esther Jackson
Esther Jackson is the Public Services Librarian at NYBG's LuEsther T. Mertz Library where she manages Reference and Circulation services and oversees the Plant Information Office. She spends much of her time assisting researchers, providing instruction related to library resources, and collaborating with NYBG staff on various projects related to Garden initiatives and events.
---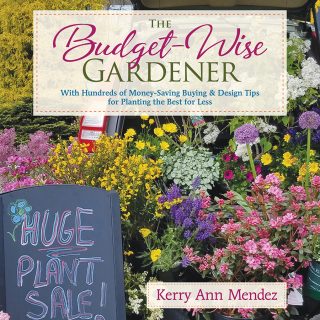 The Budget-Wise Gardener: With Hundreds of Money-Saving Buying & Design Tips for Planting the Best for Less is a new book by Kerry Ann Mendez with St. Lynn's Press. Mendez holds class in the "Academy of Shrewd Plant Hunters" teaching readers how to purchase great plants for less, delving into topics including how to find good plant sources, design ideas with low-cost, high-performance plants, and container gardening on a budget. The information in Budget-Wise is presented in a conversational way, and the book is especially useful for those who are looking for advice about questions to ask and what to look for when purchasing plants from a store or online. Mendez's advice about plant selection is useful for those who are on a budget and for those who are simply interested in learning more about buying plants. A great deal of the information is common sense for those who already regularly purchase plants, but the book is a good resource filled with information and tips, and even experienced gardeners may take away a new idea or two.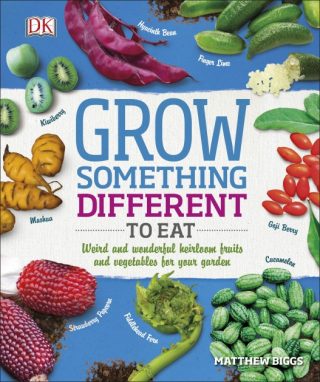 Grow Something Different to Eat: Weird and Wonderful Heirloom Fruits and Vegetables for Your Garden by Matthew Briggs for DK is a well-designed and colorful book full of interesting plants and useful information. Maybe you are looking for some new excitement in your garden, or perhaps you sell your produce and are looking for high-value, unique crops that will do well in your space. Grow Something Different has information for both of these readers, as well as for those who simply appreciate a good gardening book. There isn't much by way of general gardening information in this book, leaving more room for the plant profiles. After a brief introductory section about garden setup basics and a few pages of suggested plants based on growing conditions (shade, moisture), the remaining 190 pages are devoted to plant profiles. Chapters include fruiting vegetables; salad vegetables; leafy greens; roots, bulbs, and shoots; grains and seeds; herbs and spices; and fruit. Each profile includes information about what the plant is, how difficult it is to grow, sowing instructions, ideal temperature, sunlight requirements, water requirements, mature plant size, when to harvest, how to eat, and how to keep fresh after harvest. As DK is based in the UK, make sure what you decide to grow is not a known invasive for your region.
The caveat for this book may be obvious but is still important to mention. Popular food crops are popular in large part because they are high-yield and easy to grow. It's unlikely that every gardener will have success with every plant in Grow Something Different, so, as with any new garden project, be bold, be creative, and anticipate some trial and error. Here's hoping that your efforts will be rewarded with weird and wonderful heirloom produce. If you need some help, don't forget to call or email the library's Plant Information Office!