Healing in the Garden
Posted in From the Library on May 8 2018, by Esther Jackson
Esther Jackson is the Public Services Librarian at NYBG's LuEsther T. Mertz Library where she manages Reference and Circulation services and oversees the Plant Information Office. She spends much of her time assisting researchers, providing instruction related to library resources, and collaborating with NYBG staff on various projects related to Garden initiatives and events.
---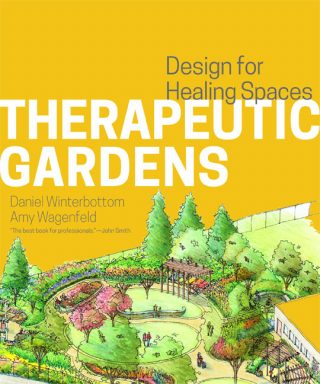 Therapeutic Gardens: Design for Healing Spaces is a 2015 book by Daniel Winterbottom and Amy Wagenfeld for Timber Press. The authors draw on a body of research that suggests nature and gardens can be healing spaces for people with disabilities and illnesses. However, they also pose the question—is every garden a therapeutic garden? The authors follow this question with a quote from Rodale: "Gardens are where people and the land come together in the most inspiring way." This is the guiding sentiment throughout the book, making it a useful resource for horticultural therapists, those who would like to design gardens with accessibility in mind, and those who are interested in learning more about the health benefits of many different kinds of gardens.
Starting with a historical sketch about therapeutic gardens, proceeding chapter titles include "Collaborative Design," "Gardens for Movement and Physical Rehabilitation," "Gardens for Solace and Comfort," "Learning Gardens," "Sensory Gardens," and "Community Gardens," ending with a section about garden maintenance. Throughout the text, the authors highlight different successful therapeutic gardens within each category, including gardens for children with cancer, gardens for homeless populations, and peace gardens. For those who believe in the healing power of nature, or those who are interested in the history of therapeutic garden design and philosophies, Therapeutic Gardens is a great resource and a fascinating book.