Bathing in the Forest
Posted in From the Library on July 26 2018, by Esther Jackson
Esther Jackson is the Public Services Librarian at NYBG's LuEsther T. Mertz Library where she manages Reference and Circulation services and oversees the Plant Information Office. She spends much of her time assisting researchers, providing instruction related to library resources, and collaborating with NYBG staff on various projects related to Garden initiatives and events.
---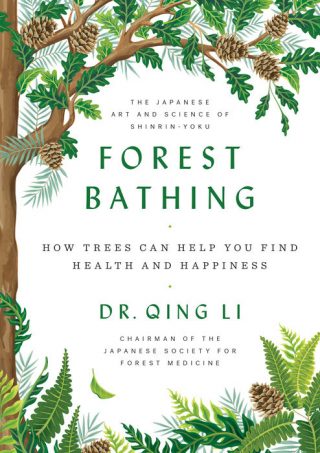 Forest Bathing: How Trees Can Help You Find Health and Happiness, by Dr. Qing Li, is an aesthetically pleasing book about "the Japanese art and science of shinrin-yoku." Shinrin means "forest" in Japanese, and yoku means "bath." Shinrin-yoku, then, is the action of "bathing" in the forest atmosphere—of "taking the forest in through our senses."
Li, the Chairman of the Japanese Society for Forest Medicine, writes in a meditative, thoughtful manner, and offers simple advice for those who would like to experience the benefits of forest bathing, either through a more extreme lifestyle change or by incorporating more nature experiences into their everyday lives. With 100 color photographs and large fonts, the book itself is a calming meditation on forest spaces, and a pleasant respite from a day in the office.
The book is beautiful and well-designed, and readers can jump into the text at any point, or read it as a narrative work. Acolytes of forest bathing will want to depart for the woods immediately after reading, but even those without easy access to more natural spaces may be inspired to include more natural outings and experiences as parts of their routines. At NYBG, the Thain Family Forest is calling…