DIY Beyond the Garden
Posted in From the Library on September 20 2018, by Esther Jackson
Esther Jackson is the Public Services Librarian at NYBG's LuEsther T. Mertz Library where she manages Reference and Circulation services and oversees the Plant Information Office. She spends much of her time assisting researchers, providing instruction related to library resources, and collaborating with NYBG staff on various projects related to Garden initiatives and events.
---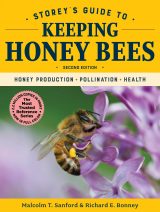 Storey's Guide to Keeping Honey Bees: Honey Production, Pollination, Health (second edition, 2018) contains everything a beginner beekeeper needs to know to get started. At 200 pages, it is chock-full of very useful and fascinating information. The authors of the work are Dr. Malcolm T. Sanford, retired extension entomologist and professor emeritus, Department of Entomology & Nematology, Institute of Food and Agricultural Sciences, University of Florida, and veteran beekeeper Richard E. Bonney. Together, they cover a remarkable amount of information about honey bees, from the practical aspects of how to start beekeeping, to more advanced colony management practices.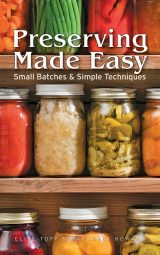 The text is immediately beginner-friendly; the authors provide a lot of guidance and advice to would-be beekeepers early on, immediately addressing common pitfalls and making practical suggestions. The prose is clear and detailed, and the more instructional information is interspersed with personal "beekeepers' stories," which are short (mostly ½ page or less) autobiographies from various people related to their experiences with keeping bees. For anyone who has an interest in keeping bees, Storey's Guide to Keeping Honey Bees is an excellent place to start.
In Preserving Made Easy: Small Batches & Simple Techniques (2012), cookbook authors Ellie Topp and Margaret Howard teach readers the basics of home food preservation and share recipes that can be made simply, and in smaller amounts. For those who are curious to learn more about how to prepare and can sweet spreads (including jams, jellies, marmalades, and conserves), and condiments (including pickles, relish, salsa, chutney, savory sauces, and flavored oils and specialty vinegars), Preserving Made Easy is a straight-forward and pocket-sized way to get started.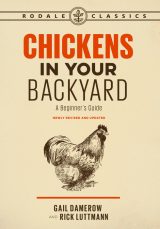 In Chickens in Your Backyard: A Beginner's Guide, family farmers Gail Damerow and Rick Luttmann offer readers an update to a work originally published in 1976. From starting a flock, to caring for chickens, to reaping the benefits—either eggs or meat, and everything in between—the authors provide an easy-to-read introduction to keeping chickens. Although keeping chickens does not necessarily mean saving money on groceries such as eggs or meat (at least on a small scale, and in terms of meat in particular), some people choose to keep chickens because of their desire to better control where their food is coming from and be assured of cruelty-free food. At 150 pages and with many black and white illustrations, it is a handy reference for those wishing to learn more about starting a home flock.