Handmade Houseplants
Posted in From the Library on November 8 2018, by Esther Jackson
Esther Jackson is the Public Services Librarian at NYBG's LuEsther T. Mertz Library where she manages Reference and Circulation services and oversees the Plant Information Office. She spends much of her time assisting researchers, providing instruction related to library resources, and collaborating with NYBG staff on various projects related to Garden initiatives and events.
---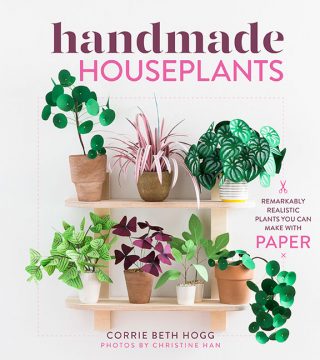 Handmade Houseplants: Remarkably Realistic Plants You Can Make With Paper is a fun how-to book by Corrie Beth Hogg with photographs by Christine Han. Hogg, an artist, designer, crafter, and stylist, has created a handy resource for people who would like to make paper plants for their homes or special events. The book details tools and materials, skills and techniques, and includes templates as well as step-by-step instructions for how to make over 30 paper plant projects of varying difficulty. The majority of the projects focus on foliage, as making paper flowers brings another level in complexity and is not as beginner-friendly.
For the most part, the book is well-organized and clearly laid out, although botanical names are used inconsistently, or not at all. Readers who are interested in sourcing art supplies mentioned in Handmade Houseplants can visit the book's website for additional content and recommended vendors.
Speaking of paper plants, Plant Talk readers who enjoyed the paper flowers during the Garden's recent Georgia O'Keeffe: Visions of Hawai'i exhibition can appreciate the skill and talent needed to create truly beautiful and detailed paper plants; the paper flowers featured in that show were created by the Garden's own Charles Zimmerman, whose artwork can be viewed here. Although Handmade Houseplants won't teach readers how to make specimen-quality paper plants, it offers a first step into the world of plant paper-crafts and design.