Celebrate the 100th anniversary of Children's Book Week with the NYBG Library!
Posted in From the Library on April 22 2019, by Samantha D'Acunto
Samantha D'Acunto is the Reference Librarian at The New York Botanical Garden's LuEsther T. Mertz Library.
---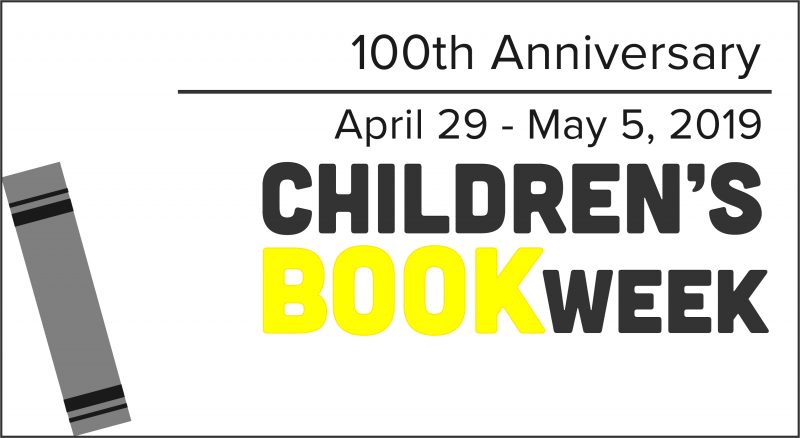 The LuEsther T. Mertz Library is celebrating the 100th anniversary of the Children's Book Council—Children's Book Week (April 29–May 5) with new titles, book bundles on various subjects, and more!
Children's Book Week is a national event that first started in 1919 to promote literacy among the nation's youth. Each year readers are invited to celebrate this week in various ways at a number of participating institutions. This year, you can visit us in the library to celebrate or check your local public library for scheduled events.

Read below to learn more about the titles that have recently been added to our children's circulating collection. These fantastic books can be enjoyed here in the library, or, if you are an NYBG library card holder, bring them home! Don't have a library card? Stop by the library with your NYBG Membership Card and sign up.
Orchids by Kim Owen, with photographs by Amber Owen, Ron Hanko, and Mike Pearson
If you're visiting the last days of the 17th annual Orchid Show celebrating the orchids of Singapore with a young child, consider stopping by the library before or after the show to read Kim Owen's Orchids. Early readers will learn about orchid pollination, symmetry, and the variety of shapes, colors, and sizes these flowers display. Photographs of various orchids accompanied by an easy-to-read narrative makes learning the wonders and joys of orchids so easy! The suggested activities provided by the author will help expand on the various topics addressed throughout the book and are easily adaptable for various learning levels. Additional resources for educators are offered digitally with the book.
Kim Bogren Owen [Words Reflected], 2016.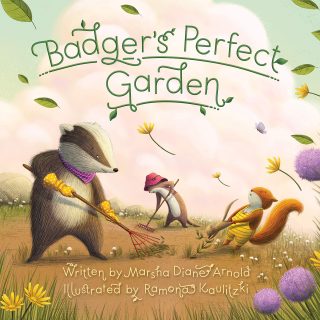 Badger's Perfect Garden by Marsha Diane Arnold; illustrated by Ramona Kaulitzki
Badger has collected and stored seeds all winter in preparation for springtime, determined to plant the perfect garden. With help from friends, Badger plans, weeds, rakes, and seeds the garden to perfection. However, a terrible rainstorm rips through the garden and Badger worries that all of his hard work will be washed away. When summer arrives, he is delighted to see his garden flourish, though it did not go as he initially planned. The gentle colors used in Ramona Kaulitzki's illustrations emulate the feeling and visions of spring. Readers will enjoy Badger's Perfect Garden and take away a deeper understanding of expectations and outcomes.
Sleeping Bear Press, 2019.
Hummingbird by Nicola Davies; illustrated by Jane Ray
Well-known zoologist and children's author Nicola Davies captures the remarkable migration of the Ruby-throated Hummingbird in her new book, Hummingbird. The range of the Ruby-throated Hummingbird spans over 2,000 miles, from as far south as Central America to as far north as Canada, during their migration. The sightings of a hummingbird's vibrant colors, size, and speed mesmerize onlookers around the world. Readers will follow the hummingbirds as they make their way north to nest and learn about hummingbirds' food preferences, nesting rituals, and travel patterns. Illustrations by Jane Ray capture the hummingbirds' grace, vibrancy, and swiftness. The back matter provides additional information about hummingbirds as well as a bibliography and index.
Candlewick Press, 2019.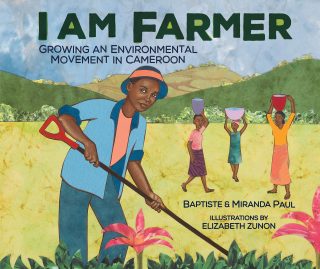 I Am Farmer: Growing an Environmental Movement in Cameroon by Baptiste and Miranda Paul; illustrations by Elizabeth Zunon
Baptiste and Miranda Paul pay homage to Tantoh Nforba, known as "Farmer" among his peers. Farmer single-handedly changed the landscape of Cameroon by inspiring communities to harness the resources of the land and cultivate them into lush resources. The biographical narrative conveys that passion and knowledge can inspire change.
Farmer revolutionized Cameroon's horticultural and environmental movements. Though he was initially discouraged from pursuing an undesirable career such as farming, Farmer was determined to follow his passion. After rigorous, hands-on work and endless hours of study, Farmer began to rally local communities, introducing concepts of sustainable agriculture, clean water, and community gardens. Together their efforts created vibrant green landscapes across the Cameroon region.
Illustrations by Elizabeth Zunon bring unique texture and style from West Africa, where she draws her inspiration. Photographs of Farmer and his friends are sprinkled throughout the book, connecting readers with the real inspirational events that swept through Cameroon.
Millbrook Press, 2019.
Additional titles by Miranda Paul in our collection.
Seed School: Growing Up Amazing by Joan Holub; illustrations by Sakshi Mangal
Seed School invites readers to join Ms. Petal's class of seeds to learn more about growing up! All the seeds but one know what they will grow up to be. A class of fruits, vegetables, legumes, and flower seeds celebrate their differences, all while learning about the seasons and plant growth cycles. Meanwhile, the lost seed, unaware of its future, offers comedic dialog throughout, taking guesses as to what its future entails. As winter approaches and the seeds prepare for spring, the lost seed soon begins to realize what a remarkable thing he has grown up to be.
Sakshi Mangal's illustrations come to life with color and animation as the pages progress. Mangal's style captures the child-like energy often present in a young school group. Seed School is an entertaining way to introduce seeds and plant cycles to early readers.
Seagrass Press, 2018.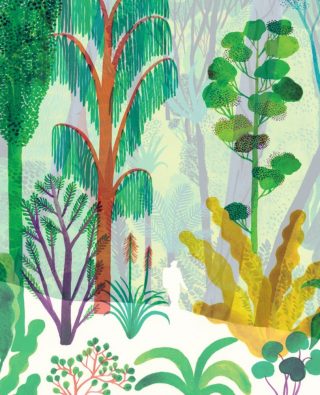 The Forest by Richard Bozzi; illustrated by Violeta Lópiz and Valerio Vidali; translated from Italian by Debbie Bibo
Richard Bozzi invites readers on an expedition through the visually-captivating, carefully-illustrated and colorful forest created by Violeta Lópiz and Valerio Vidali. Readers will join explorers in uncovering the many wonders of the forest, old and new. Unveil the ecology of an ever-changing forest as you feel your way through the pages. The artistry of the foldouts, cutouts, embossed imagery, and bold illustrations deepen the senses with each page.
Enchanted Lion Books, 2018.
Pumpkin Island by Arthur Geist
After a treacherous storm brings pumpkins crashing into a small island, they begin to sprout and take root, finding their home in unusual places around the town of Elkader, Iowa. The townspeople find various ways to play, create, and celebrate the growing population of pumpkins, leading up to the largest Halloween Jack-o'-lantern celebrations ever! Pumpkin Island highlights the real events and celebrations on each page with copperplate etchings and hand-painted watercolors that bring color and life to the story of Elkader.
Enchanted Lion Books, 2018.
Discover the jungle's ecosystem, from its leafy rooftop to its soil-rich floor, in Helen Borten's classic work, The Jungle. Readers will encounter orchids, parasol ants, macaws, bamboo, and other flora and fauna of the jungle. The 2018 reprint edition is as visually exhilarating as the original 1968 print. It will no doubt delight the curious and imaginative minds of young readers.
Enchanted Lion Books, 2018.
Three Little Peas by Marine Rivoal
Two little green peas embark on an adventure just as the garden is starting bloom. Beautiful and bold etchings done by Rivoal offer readers a page-by-page, firsthand view of life on the garden floor. As readers follow the two little peas, they will encounter various garden plants, animals, and insects. When the peas are faced with danger, they find a cozy space beneath the soil to hide and fall asleep. A third little pea appears just in time to explore the lush green garden. Three Little Peas is a wonderful book for early readers preparing for a delightful spring.
Enchanted Lion Books, 2014.