The Orchid Show: Singapore
Saturday, February 23, 2019 – Sunday, April 28, 2019
Dazzling tribute to the "City in a Garden" soars to new heights with thousands of orchids climbing to the sky.
Singapore—where the national flower is an orchid—is the inspiration for the 17th annual Orchid Show. Elevate your interest in these storied flowers that are an integral part of the island's culture and landscape. Developed in partnership with Gardens by the Bay and Singapore Botanic Gardens, the exhibition pays homage to the sites' iconic Supertrees—dramatic vertical habitats, and famed Arches—a highlight of the National Orchid Garden.
In the landmark Enid A. Haupt Conservatory, thousands of colorful orchids in every shape and size surround you—reaching up towering structures and clinging to overhead arches—creating a horticultural spectacle not to be missed.
Treasures from NYBG's exquisite orchid collection as well as varieties showcasing Singapore's achievements in orchid cultivation, research, and conservation are also on display.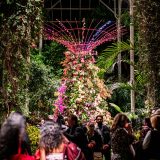 Orchid Evenings
NYC's most spectacular evening outings are back, bringing the color and nightlife of Singapore with them. Step into one of the world's greenest cultures as Supertrees come alive around you, exhilarating with a display of lights and orchids after dark.
(Adults 21 and over only, special ticket required)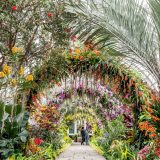 A Partnership for Orchid Conservation
Orchid conservation is one of many priorities that Singapore and NYBG share in our commitment to a greener planet through sustainable practices.
Singapore is one of the premier showcases for environmentally sustainable horticulture, with a rich legacy of innovative garden design, spectacular floral display, and achievements in orchid cultivation. Here at NYBG, we have a long-standing commitment to sustainable orchid cultivation and research.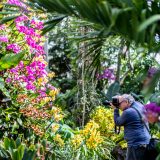 In the News
See what media outlets have to say about this year's Orchid Show.