The Orchid Show: Jeff Leatham's Kaleidoscope
February 26 – May 1, 2022
10 a.m. – 6 p.m. | At the Garden
THE EXHIBITION IS NOW CLOSED
Experience Famed Designer Jeff Leatham's Bold and Colorful Vision
The dazzling floral creations of Jeff Leatham, famed artistic director of the Four Seasons Hotel George V in Paris and floral designer to the stars, return for The Orchid Show's 19th year. Leatham's bold and colorful vision will unfold through captivating installations and designs, transforming the historic Enid A. Haupt Conservatory into a different color experience and visual effect, like the turn of a kaleidoscope.
Orchid towers of orange, yellow, and green, undulating fields of white, and overhead plumes of purple, together with artistic embellishments and a kaleidoscopic tunnel of lights, will enthrall visitors.
Originally debuted in 2020, The Orchid Show: Jeff Leatham's Kaleidoscope was on track to be NYBG's most popular Orchid Show yet. Don't miss this horticultural spectacle featuring thousands of dramatically displayed orchids in every shape and size.
Discover More About Jeff Leatham
"I am thrilled to bring Kaleidoscope back to The New York Botanical Garden in 2022—much like when you look into a kaleidoscope, the view is never the same. My reinvention of Kaleidoscope will be totally different installations than two years ago. Every turn will display a new vision, while maintaining the thematic element of every gallery focusing on a different color experience. With this design, visitors will appreciate the beauty of orchids and see NYBG's Conservatory in exciting new ways." –Jeff Leatham
Jeff Leatham is the famed artistic director of the Four Seasons Hotel George V, Paris with studios in the Four Seasons Hotel Philadelphia and the Four Seasons Hotel Los Angeles at Beverly Hills. He has been creating a sensation with his floral installations since he began his career in 1995. His work is a combination of his love for flowers and passion for design. Using shape, color, and simplicity, his creations are dramatic, bold, unforgettable statements that are always an integral part of the setting. His clients include Cher, Dolly Parton, Oprah Winfrey, the Kardashians, His Holiness the Dalai Lama, and many others. His publications—Flowers by Jeff Leatham, Flowers by Design, and Jeff Leatham: Visionary Floral Art and Design—remain best-selling design books worldwide. @jeffleatham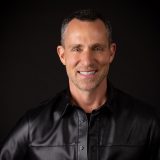 Step Into a World of Color and Style with Orchid Evenings
Select Fridays and Saturdays in March & April; 7–10 p.m.
Lose yourself in twists and turns of color at New York City's most spectacular evening outings.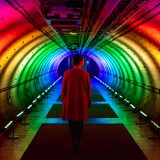 A Look at this Year's Orchid Show